Advancements in Health Care
Memory Care Services, American Senior Communities
The use of anti-psychotic drugs to reduce agitation in dementia patients has been losing favor for years. In Indiana, American Senior Communities is at the forefront of the movement to replace drugs with a holistic approach that relies primarily on tools such as music, aromas and robotic pets to put residents at ease.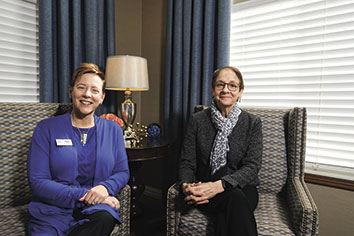 American Senior Communities Memory Care Director Melanie Perry, left, and CEO Donna Kelsey. 
ASC, which operates 90 senior health and living facilities across the state, totally committed to the approach in its memory care units about two years ago, said CEO Donna Kelsey, who took the reins in the middle of 2017 and swiftly brought back into the fold Melanie Perry, who had worked at ASC 20 years earlier.
Part of what drew Perry back was ASC's complete dedication to providing state-of-the-art care for patients with Alzheimer's disease and other forms of dementia. "We have to meet these people where they are" in terms of how they perceive the world and not be so focused on simply controlling their behavior, Perry said.
Instead of an early wake-up call for breakfast, for example, residents now eat after they wake naturally. 
The dedication to holistic therapies has meant a cultural revamp of ASC's 64 memory care units, called Auguste's Cottages—from the purple uniforms worn by staff to the purple or red plates meals are served on. Even the housekeeping staff is trained on dementia-care and wears purple, because research shows that purple is one of the last colors patients with dementia recognize.
While the color of plates and uniforms is standard systemwide, the most important elements of care are tailored to each of ASC's approximately 1,700 memory care residents. The staff uses trial and error with each resident to determine what works best for each.
The result is happier residents with less anxiety and a reduction in sundowning, the excess energy and agitation often seen in those with dementia as the day wears on and shadows grow longer.
That's when staff is more likely to notice patients engaging in repetitive motions or asking repeatedly to see a long-deceased parent or stating other wishes that can't be fulfilled.
To reduce incidence of sundowning, the memory care units use full-spectrum lighting, which simulates full daylight. The staff also leads residents in exercises that funnel the excess energy in a positive way. 
The units also introduced aroma therapy, using scents, such as pine or peppermint, that people typically enjoy. Residents also have responded well to robotic pets, blankets that are weighted and heated, and the use of music therapy.
A partnership with Butler University equips residents with MP3 music players that contain playlists of favorite songs tailored to residents based on their stated preferences and/or the input of family members. 
"Nothing speaks to our memories like music," said Perry, especially the songs people like when they are in their late teens and early 20s.
A similar music partnership is now in place at ASC communities in and around South Bend thanks to the efforts of a student at Notre Dame.
Kelsey said ASC's biggest challenge in implementing its care model is finding the right staff and offering the training and retraining needed to keep best practices top of mind. 
And when it comes to hiring, there's one overarching goal, Kelsey said.
"We're looking for people with hearts of gold."•
Please enable JavaScript to view this content.