Physician
Dr. John W. Brown, Riley Children's Health, Indiana University Health
In the movie "It's a Wonderful Life," George Bailey needed an angel to show him how much good he'd done in the world.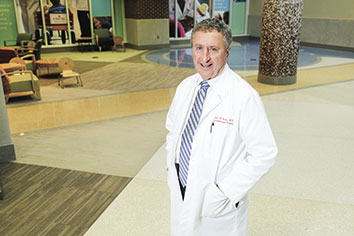 Dr. John Brown has spent four decades repairing children's hearts and, in some cases, inspiring them to follow in his footsteps. 
Dr. John W. Brown doesn't need supernatural evidence. Brown, who's been doing heart surgery on infants and young adults for 40 years, sees the results of his good work every day. He sees his patients survive and thrive. He even works with doctors and nurses whose lives he saved when they were children.
"I've had the honor and privilege of operating on about 25 patients who went on to go to medical school at IU," said Brown, who teaches at the Indiana University School of Medicine and does surgery at Riley Children's Health at IU Health.
One of those former patients is Dr. Mark Ayres, a pediatric cardiologist at Riley who was 9 years old when Brown saved his life by replacing an infected heart valve.
"It is because of Dr. Brown and the other great people at Riley that I decided to become a pediatric cardiologist, so I could try to pay it forward for the things they did for me," Ayres said. 
"The absolute best part of my job is when my patients that I share with Dr. Brown find out that he is my surgeon, too. We instantly have a bond because Dr. Brown has saved both of our lives. We share the same hero."
Brown's four decades of saving lives and his hero status among patients, colleagues and students make him the top honoree in the Health Care Heroes physician category.
Brown, who grew up on a farm outside of Gosport, had intended to follow in the footsteps of his two older brothers, who studied engineering at Purdue University. But he began to have doubts about engineering in his senior year of high school. "It seemed rather sterile, and like it wouldn't have the interaction with people that I desired." 
At the suggestion of one of his teachers he took an aptitude test, the results of which said he was best suited to be a doctor. He traces his desire to practice medicine to the moment he saw the results of that test. 
Because his tiny high school didn't offer physics, chemistry or foreign language courses, Brown arrived at IU-Bloomington with a lot of catching up to do. But he managed to cram what should have been eight years of undergraduate and medical school study into seven years.  
It was during his time in medical school that he was exposed to the work of cardiac surgeons at IU and saw what a difference they could make. As a senior, he did cardiac rotations with Dr. Harold King, who performed surgeries on children with congenital heart conditions.
"It was inspiring to see these sick infants and children get better as a result of what he did," Brown recalled.
Brown did his surgical training at the University of Michigan and at the National Heart, Lung and Blood Institute in Bethesda, Maryland, where he was exposed to some of the pioneers in his field, but he said he always knew he'd return to Indiana.
It's here that he's operated on nearly 15,000 children, helped train nearly 100 cardiothoracic surgery residents and fellows, authored more than 275 peer-reviewed research publications, and won numerous awards. 
According to Dr. Mark Turrentine, the John W. Brown Professor of Cardiothoracic Surgery at the IU School of Medicine, Brown's international reputation in surgical education and research has immeasurably furthered the reputations of the medical school, IU Health and Riley.
For Brown, the accolades are secondary to helping his patients and their families. 
"It's been very gratifying to help develop new techniques and new ways of doing things that improve quality of life," he said, noting that the durability of the repairs surgeons are capable of today means patients often don't have to endure multiple follow-up procedures.
The stress parents feel when their child is facing life-saving surgery is all too familiar to Brown, who said it's humbling to realize people are willing to entrust you with the most precious thing in their lives. "I tell them I'll treat their child as if they were my own child or grandchild."
Brown feels fortunate to have all three of his children and seven grandchildren nearby, and he said he owes not just his family but his career to his wife of 50 years, Carol Ann. 
"She bought into my dream and supported me and picked up all the loose ends of raising a family," he said. "I couldn't have had the life I've had without her."
Though his job is demanding, Brown, 74, has reason to believe he can continue to be productive a while longer. His dad lived to be 95 and his mom is going strong at 97.
"I hope I have several more good years," he said recently, a day after performing back-to-back six-hour operations.
"This profession demands that. You just do what's needed."•
Please enable JavaScript to view this content.