Physician
Dr. Chris Callahan, Chief Research & Development Officer, Eskenazi Health
Dr. Chris Callahan's colleagues describe him as a senior care warrior. Patients say he's a good listener and a calming presence.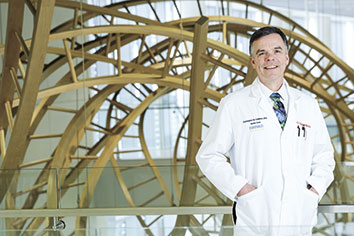 Dr. Chris Callahan's care for elderly patients informs his research into Alzheimer's disease and late-life depression.
For Callahan, 59, spending time with seniors and fighting for better ways to care for them is a reflection of how much he likes being around them.
"I have always enjoyed meeting older adults and hearing their stories," he said. "Most of them are survivors in a sense because they've already made it into their seventh or eighth decade."
Almost all of the six to eight patients he visits with every week have Alzheimer's disease or late-life depression, two areas he has focused on in a 30-year career that has firmly established him as a champion of improving the health of older adults.
Callahan, the son of a radiologist and a nurse, grew up in St. Louis, where he went to medical school before doing an internal-medicine residency at Baylor University in Houston.
He came to Indianapolis for what was supposed to be a year-long fellowship around general medicine teaching and clinical research, but he found himself attracted to the field of geriatrics, which Eskenazi Health showed an early interest in.
Callahan not only stayed in Indianapolis, but became a leader in the field. In 1997, he founded the Indiana University Center for Aging Research and over three decades has won numerous awards recognizing his expertise in geriatric care.
He's also racked up $50 million via 29 research grants bestowed by the National Institutes of Health, the Agency for Healthcare Research & Quality and the Center for Medicare and Medicaid Services. A recent grant funded development of the Brain Health Patient Safety Learning Laboratory, which Callahan created to study and reduce harms from the use of medications that have adverse cognitive effects on older adults.
He also helped launch  the Indiana University and UCLA Alzheimer's disease care programs.
Callahan's work is marked by his ability to make connections between conditions previously thought to be unrelated and then marshal multidisciplinary teams to treat them.
"We found in looking into depression that many of these people had difficulty with their memory, so we wondered if team-based care strategies would be effective for older people with dementia," Callahan said, speaking about the work around Alzheimer's and dementia that he and colleagues have been focusing on for about 15 years.
Callahan is especially proud that his work has pulled others into the field and grown work around geriatrics research at IU.
Callahan's work has inspired colleagues to improve their work and even helped them in their personal lives.
"Spending over 25 years working with Dr. Callahan has improved my love of and expertise as a geriatric nurse," said Lisa Hovious, a retired team captain at Eskenazi Health's Center for Brain Care Innovation. "I was also able to provide educated and leading-edge care for both of my parents."
While Callahan is grateful for advancements in how health systems can care for older adults, he thinks entire communities need to consider how they can help. Designing places that are easy for seniors to navigate is only the first step, he said. "Communities need to provide opportunities for older adults to feel like they can still contribute on any particular day."•
Please enable JavaScript to view this content.