Physician
Dr. Sumeet Bhatia, Community Hospital Oncology Physicians, Community Health Network
With a father and sister who were doctors, Dr. Sumeet Bhatia always assumed he'd become a doctor, too. But the conventional nature of his choice says nothing about the training he received or the way he's practiced medicine over the course of a more-than-25-year career.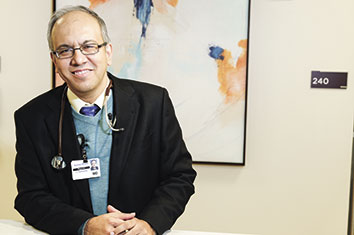 Dr. Sumeet Bhatia helped launch a dedicated oncology informatics team at Community Health.
Bhatia, 49, studied medicine and did his residency in his native India, but he's practiced only in the United States. He did a second residency at the University of Connecticut so he could practice in this country, then did a fellowship in Indianapolis under Dr. Larry Einhorn, the oncologist famous for groundbreaking treatment of testicular cancer.
He chose the opportunity to work for Einhorn over a fellowship he could have taken at the Mayo Clinic in Minnesota, a decision he said was easy for someone on the path to becoming an oncologist.
After starting as a general oncologist at Methodist Hospital, Bhatia and his partners gradually made the move to Community Health Network, where he's been instrumental in several initiatives that help the system deliver state-of-the-art treatments.
"It always annoys me when patients have to travel to Chicago or Houston to get care. That should not be only for the rich or well-off," Bhatia said.
His practice has helped local cancer patients get top-notch care where they live by seeking and receiving accreditation from Houston-based MD Anderson, which is known for its groundbreaking cancer treatments. The process forced Bhatia and his large Community-based practice to up their game on a variety of fronts and add cancer service lines.
Bhatia has also been instrumental in the launch of a dedicated oncology informatics team at Community, which he says is crucial to the efficient delivery of care.
"If we stopped making scientific advancements but learned how to deliver what we already know more efficiently, outcomes could improve by up to 40 percent," Bhatia said.
Known as a champion for equal access to care, Bhatia has worked with Community Health Foundation to help financially struggling patients by assisting with drug co-pays, transportation and groceries.
"We never turn away a patient because they can't afford treatment," Bhatia said. "Physicians have to make a living, but we're here to take care of people."
Ultimately, it's what happens at the bedside that sets Bhatia apart in the eyes of patients. 
"I had a dangerous and advanced-stage cancer," said one patient. "Dr. Bhatia was positive and inspired confidence in me that I would beat the cancer."
David Charles, a Katz Sapper & Miller partner who nominated Bhatia as a Health Care Hero, is impressed with Bhatia's constant search for change. "He doesn't see medical boundaries," Charles said. "He inspires colleagues and caregivers at every level to be their very best, and he gives patients hope."
Bhatia finds pleasure in his work in part because of the advancements he's seen in the oncology field, which he thinks has changed more than any specialty. "In the last five to seven years, we've started to make this into a chronic disease" instead of a death sentence, he said.
He attributes his desire to constantly push on behalf of patients to his mentors: his father, Einhorn and Community Health Network CEO Bryan Mills, who he said has created a physician-friendly atmosphere. 
 "It came from the people around me," he said. "Be pragmatic, but don't lose your vision."•
Please enable JavaScript to view this content.