Non-Physician
Penny Davis, Provider Relations Specialist, Morning Light Inc.
Penny Davis knows that people who are dying don't always get the love and respect they need.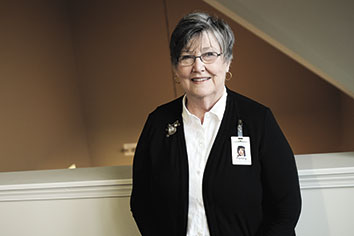 Penny Davis came out of retirement to help resurrect the Abbie Hunt Bryce Home, which provides end-of-life comfort for people who might otherwise die alone.   
"People are afraid of them," she said, "so they make excuses like, 'I'll let them rest,' or, 'I don't know what to say.' When you have a baby, everyone comes around and brings you balloons and chocolates."
Davis, 72, is definitely not afraid of the dying. 
From the time as a little girl that she helped her grandmother take care of a seriously ill woman down the street—and observed how the whole neighborhood pitched in—Davis has been interested in how we take care of people who are near death.
That eventually led to a career in hospice management, but it wasn't until 2016, when she'd been retired for several years, that Davis pitched in to save the faltering Abbie Hunt Bryce Home, a 12-bed facility that offers free hospice care to people who might otherwise die on the streets.
For turning around the home's fortunes through sheer will and compassion, Davis is the top honoree in the Health Care Heroes non-physician category.
Davis, a Kokomo native who became a licensed practical nurse in 1968, worked with terminally ill cancer patients as a nurse, but she was a mid-career convert to hospice work.
She held nursing and other health-care-related jobs in Muncie and later in Parkersburg, West Virginia, for 20 years before going back to school to get a business degree, which was followed by master's degrees in business, leadership and wellness management. She pursued business to prepare for a job in health care administration, which happened in 1989 when she became executive director of Parkersburg Hospice.
That job and several others she held later positioned her perfectly for what happened in 2016. 
By then, she had returned to Indianapolis and retired as vice president of a local hospice and home care agency before joining the board of Indiana Hospice & Palliative Care Organization, a statewide not-for-profit that supports the industry and those who use it.
Through her work on that board and as a hospice volunteer, she heard the sad tale of the Abbie Hunt Bryce Home, which opened in 2004 near Keystone Avenue and East 46th Street but more than a decade later had serious personnel problems. The home had developed a reputation for turning down referrals from the various hospice agencies around the city that it once relied on.
Tom Fodor, executive director of Morning Light Inc., the not-for-profit that owns the home, knew he needed someone with hospice experience to make the Abbie Hunt Bryce Home relevant again.
Enter Davis, who quickly accepted what is still technically the part-time job of getting back in the good graces of hospice agencies and filling up the beds, only one of which was occupied when the home hit bottom.
"We're going to fill this up!" Davis declared on her first day. And she did, delivering a record 143 residents to the home since then. By the middle of 2018, the National Hospice and Palliative Care Association had asked the home's staff to host a national webinar on how free hospice care works in Indianapolis.
"Her honesty, tenacity and belief in hospice helped save this local treasure," Fodor said.
Once at the Abbie Hunt Bryce Home, Davis set out to visit every hospice agency, hospital discharge team and palliative care operation in central Indiana, committing to resolving every referral case within 24 hours. These days, she meets the terminally ill homeless on their turf, visiting them on the streets or in shelters.
"Sometimes, all they have to their name is in a grocery bag," and it's not unusual that the clothing, toiletries and other supplies new residents receive when they move in is more than they've ever had in their life, Davis said. Even though the new residents are terminally ill, their reaction is often one of disbelief at their good fortune. "Are you sure you're going to feed me three times a day?" they sometimes ask her. 
Davis credits the home's health aides and volunteers for delivering on what she often tells new residents: "You're not coming to die with us; you're coming to live the rest of your life with us." 
"Those aides are priceless—they work so hard," said Davis, who makes it a point to show her concern for them on a regular basis because they get attached to the residents and don't have time to grieve when the time comes. 
"When [residents] die, it's hard on all of us," she said in January, having dealt with five deaths in the previous week. "They say people hang on until after Christmas."
Rachael Winbush, operations manager at the home, appreciates working with someone as dedicated as Davis is to the residents and staff.
"I am learning so much from her," Winbush said. "She has a smile that warms your heart. She really cares about the people she serves."
So do the volunteers who show up to cook, clean, make birthday cards, and plan and participate in movie nights and other events that build community at the Abbie Hunt Bryce Home.
"People deserve love, kindness and compassion," Davis said. "Nobody should die alone."•
Please enable JavaScript to view this content.