Non-Physician
Shelley Johns, Clinical Health Psychologist, Eskenazi Health; Research Scientist, Regenstrief Institute; Assistant Professor of Medicine, Indiana University School of Medicine
You don't always find your calling the first time around.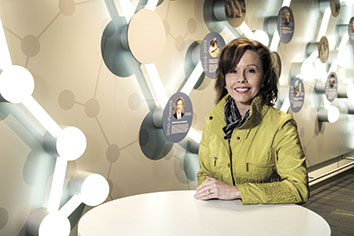 Shelley Johns works long hours on research that improves lives.
That was the case for Shelley Johns, 53, who began in broadcast journalism. She enjoyed the many health-related stories she did, but whenever she finished interviews with people who had medical conditions, she longed to do more than just tell their stories—she wanted to make their lives better.
"My boss would get mad at me for spending too much time with the people I interviewed. I finally got tired of being in trouble and decided to capitalize on my strengths." 
By the time Johns had risen to lead news anchor at the NBC affiliate in Terre Haute, she'd decided to pursue a career in health care, squeezing in undergrad classes in psychology before her news shift.
She eventually quit her job and got her degree in psychology from Indiana State University while working in diabetes care at a rural hospital. 
Twenty years later and after earning her doctorate in psychology, she still gets to delve into people's stories. But now she takes what she hears from patients and uses it in research aimed at improving their lives.
Much of her work is focused on cancer-related fatigue, which affects people both during and after treatment. "People feel so bone tired they can barely get off the couch." She also helps patients cope emotionally and handle the fear their cancer will return.
Johns' research has resulted in new approaches to helping cancer patients. One of those is Acceptance and Commitment Therapy, which teaches cancer patients how to be immersed in the present moment.
"We usually obsess over things in the past that we can't change or over a future we can't predict," she said.
Johns, who has led eight research studies, teaches medical students and residents at the Indiana University School of Medicine about the importance of psychological care of their patients and leads workshops on recognizing depression and anxiety in cancer patients.
"When I was referred to Dr. Johns, I was skeptical of psychotherapy. Working with her helped me a great deal," said a breast cancer survivor who worked with Johns. "She saved me from depression, anxiety and from being a prisoner in my bedroom for almost a year."
Colleagues at IU and from West Virginia University School of Medicine, where she interned in her last year of doctoral training and served on the faculty before returning to Indiana, aren't surprised Johns is appreciated by her patients.
"Working with Shelley, patients feel heard, understood, connected and empowered," said Laura Wilhelm, an assistant professor at West Virginia's medical school who worked with Johns 20 years ago.
Dr. Gregory Sachs, chief of the IU medical school's division of general internal medicine, admires her approach to research. "Dr. Johns is one of the hardest-working investigators in my division," he said. "She brings real rigor and attention to detail to her studies."
Johns excels because she loves coming up with new approaches that help her patients. "When they get excited about trying something new," she said, "I get excited." 
"I get to see so much resilience in people. It gives me so much hope about the state of the world."•
Please enable JavaScript to view this content.