Non-Physician
Delores Brown, Nurse-Home Visitor, Nurse-Family Partnership, Goodwill
Eight years ago, Delores Brown made a career leap that isn't as jarring as it sounds. She left her longtime job as an Indianapolis Public Schools police officer to become a nurse.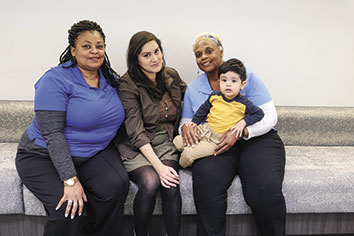 Delores Brown holds the son of Karina Lemus, center. Brown's supervisor, Inell Lumsey, left, appreciates Brown's approach to working with young mothers.
"I knew all along that I was a nurturer," said Brown, for whom nursing school wasn't in the cards as a young adult.  
When her eldest daughter was almost finished with high school, Brown decided to pursue her dream and go to nursing school, but she hasn't forgotten the lessons she learned as a school cop.
"The police work has everything to do with this," she said of her job as a nurse-home visitor for the Nurse-Family Partnership at Goodwill, where she coaches first-time mothers in difficult circumstances through their first pregnancy. 
Brown, now 50, thinks often of a police colleague who brought empathy to the job of dealing with troubled youth. It's an approach she uses on a regular basis with the 25 to 30 young mothers she's working with at any given time. 
Goodwill of Central & Southern Indiana started the Nurse-Family Partnership program in 2011 to attack the state's high infant mortality rate and chip away at the problem of intergenerational poverty.
The program, which is now available in Indiana counties stretching from Lake Michigan to the Ohio River, is based on a model created in Denver more than 40 years ago that has been shown to result in healthier babies and a lifetime of benefits for mothers and their children.
Program guidelines call for nurses to do home visits every week for the first six weeks and then every other week for the rest of the pregnancy. Visits ramp back up to weekly for six weeks after the baby is born and then gradually decrease to monthly, but it's not unusual for Brown to visit more frequently than the guidelines suggest. 
Brown, who still moonlights as a bedside nurse on weekends, couldn't be happier with the opportunity she gets to help young mothers and their children.
"There's no other specialty in nursing that gives you this long window of time to be a catalyst for change," she said. "You don't get an opportunity to help change people's lives at the bedside."
When the three-year commitment to a family ends, the relationship doesn't. And after six years as a nurse-home visitor, Brown has a lot of mothers and kids to keep up with. "Some days I feel like I'm going to retire with 200 daughters and 200 grandchildren." 
Many of her former clients had never had a positive relationship in their lives. Brown feels privileged to be the first and then see the young mothers modeling what they've learned in their interactions with friends and family.
Brown has learned some lessons, too. Like never judge a book by its cover. She recalls meeting one of her first clients for the first time in a special education classroom. 
Now that mother drives a car, has her own apartment, holds down two jobs and has a 5-year-old daughter enrolled in a pre-kindergarten class.
"This program really can change lives," Brown said.
Her colleagues think Brown has a special gift for the job. "Each time I attend a joint visit with her, I learn something new," said Inell Lumsey, Brown's supervisor. "She has a different approach with each of her clients, tailoring the visits to fit their individual needs."
Brown appreciates the importance of the role she and her colleagues play, especially in a state with high rates of infant and maternal mortality. She sees herself helping mothers and children for many years to come.
"Our work is so necessary," she said.•
Please enable JavaScript to view this content.