Volunteer
Linda Ellis, American Heart Association
It's hard to imagine how Linda Ellis makes time for all her volunteer work.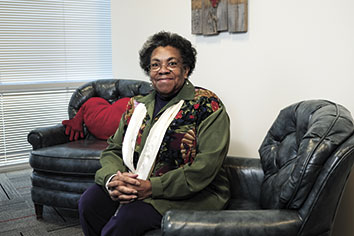 Linda Ellis' volunteer work for the American Heart Association ties together the passion she has for her church and her neighborhood. 
As a volunteer for the American Heart Association, she's a leading ambassador for the organization's work to address health disparities, heart disease and stroke in the African-American community.
Ellis is also president of her neighborhood association, the Northwest Neighborhood Planning Development Corp. She's active in her church, Barnes United Methodist, and donates time to other faith-based and minority-centered efforts, some of which she started.
Those activities and many others are in addition to her full-time job as executive director of the local chapter of the Black Nurses Association.
It helps that much of the volunteer work the 67-year-old is involved in occurs around a common theme: empowering her neighbors to live longer, healthier lives by helping them understand the importance of blood pressure management, keeping doctor appointments, and eating a healthy diet.
"I'll do this until I'm too old to function," she said. "There will always be a need for education and support."
For her tireless efforts to improve the lives of those around her, Ellis is the top honoree in the Health Care Heroes volunteer category.
Ellis is intimately familiar with the health challenges of her neighbors. She lives in a food desert, and within her neighborhood are areas where life expectancy is as much as 15 years lower than for the community as a whole.
Fortunately, her involvement at church and in her neighborhood puts Ellis in a great position to help educate people about heart health.
"Most of the people in our neighborhood are active in their churches," she said. So Ellis and the AHA worked together to reach them at their houses of worship through the AHA's "Check. Change. Control" hypertension program. 
Ellis set up kiosks in a half-dozen churches, where more than 1,000 people were then able to check and record their blood pressure using blood pressure cuffs and computers provided by the AHA. 
But she realized tracking blood pressure was only part of the problem. She also wanted to give participants in the hypertension program access to healthier food, so she proposed integrating community gardens into the program. 
Ellis, who grew up on a farm in Kentucky, provided the plants and seeds, came up with a process for dividing and assigning the plots, and started a mentorship program that paired neighborhood teenagers with senior gardeners. Working together, the seniors and teens weed and maintain the plots.
There are now several gardens, all in Indianapolis ZIP codes that have been identified as food deserts.
The community gardens are a big point of pride for Ellis, as are the results of the hypertension outreach program. "We've reached 1,800 people, and we saw a tremendous increase in knowledge and more people keeping their appointments." 
AHA Executive Director Wendy King appreciates all Ellis does to encourage heart health in low-income neighborhoods. 
"You won't find a more passionate volunteer and advocate for her community. Linda has been instrumental in the American Heart Association's efforts to tackle health disparities in Indianapolis neighborhoods. She's a driving force in bringing together young and old alike in creating and implementing programs to improve the health and well-being of her community."
The volunteer work Ellis does for the AHA isn't limited to one program. She's pushed for various kinds of health legislation on the state level and helped promote the idea of tobacco-free communities. She planned the AHA's Most Powerful Voices Concert, an annual gospel event that focuses on stroke education and prevention. Since 2010, she's taken the AHA's Go Red for Women heart health awareness program into local churches.
That doesn't cover all Ellis has done and is doing for the local chapter of the AHA—and it doesn't address her volunteer work outside of AHA. 
She volunteers for the Indiana Minority Health Coalition, the American Cancer Society and the Indianapolis Ten Point Coalition, which helps fight crime in the city. She's also been at the forefront of educating immigrant communities about chronic diseases. 
A dozen years ago, she created Women in Touch Ministries, a not-for-profit dedicated to serving and empowering women and children that helps battered women with utility and rent payments. 
She's been precinct chair for her local precinct and does voter registration and get-out-the-vote drives in predominantly African-American and Latino communities.
Almost all of what Ellis does is motivated by her desire to eliminate disparities in health and life expectancy for underserved communities. That makes the AHA a natural match for her. And she's seen enough high blood pressure and stroke in her family to take her volunteer work personally. 
"I appreciate the benefits of being healthy," she said. 
Although she admits she'd like to have a little more time for herself, Ellis said she loves interacting with people and helping to educate them about their health.
"My blessings come from benefiting others."•
Please enable JavaScript to view this content.