Volunteer
Kurt Bassett, Riley Hospital for Children, Indiana University Health
If there's a model volunteer at Indiana University Health's Riley Hospital for Children, it might be Kurt Bassett.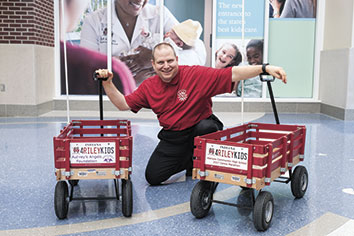 Kurt Bassett's supervisor wishes she had 10 more volunteers just like him.
"I'd love to have 10 more Kurts," said Susan Schwarz, the hospital's volunteer resources coordinator. "He's indispensable," she said of Bassett, 35, who is widely praised for his work ethic, sense of humor and people skills.
Though Bassett lives with autism, it doesn't define him, said Schwarz, who, like many of her colleagues, enjoys seeing Bassett's smiling face as he collects the iconic red Riley wagons families use to transport their children around the hospital and into an adjoining parking garage.
It's Bassett's job to round up the wagons, sanitize them, and take them to the hospital's Simon Family Tower entrance so they're ready for the next family that comes along.
"He is the exact kind of affable presence needed in a children's hospital," said Craig Robinson, the hospital's senior guest relations associate. "My morning is not quite complete until I hear, 'Good morning, Craigery!' coming from down the hall."
Bassett is a product of the Hands in Autism Interdisciplinary Training and Resource Center, a program within the Department of Psychiatry at the Indiana University School of Medicine that trains people with autism and other challenges to do meaningful work.  
Bassett, a native of Howe who has lived in Indianapolis about six years, began working with the Hands staff in early 2017 and was ready to start Riley's volunteer training program by June of that year and went to work the following month. 
The training involves teaching volunteers many Riley protocols, which Bassett keeps top of mind as he collects the wagons. "Two squirts," he says, repeating one of the cardinal rules of spraying and sanitizing the wagons.
When Bassett started, he was rounding up and sanitizing the wagons for a few hours every Monday morning accompanied by college interns who tracked his progress. But he quickly became independent and added a day to his work schedule. Now he's working almost three hours a day, three days a week, and he's added wheelchair round-up to his duties. He's also learned to spot broken wagons and wheelchairs, so he can turn them in for repair. 
Based on his work ethic and job performance, Schwarz foresees giving Bassett more responsibility as time goes on.
Hiring Bassett and other Hands volunteers isn't considered a service project, Schwarz said, noting that the hospital wouldn't operate as efficiently without them. Without Bassett, for example, Riley's guest relations staff members have to leave their post to collect wagons and wheelchairs.
Bassett, who rounded up 40 wagons on a recent morning, said that task and talking to people are his favorite parts of the job. 
That's right in line with what he told Schwarz when he applied to volunteer: "I think this opportunity would be fun to meet new people, meet parents and their children, and to help make their days a little better."
Bassett hopes the professional development he's getting from his time at Riley might lead to full-time, paid employment. 
Schwarz knows firsthand that someone with Bassett's work ethic and enthusiasm is good for workplace morale.
"The ebullient, 'Good Morning, Susan!' I hear every Monday as I enter the building sets the tone for my week, as I am sure it does for many, many others who have the pleasure of an early-morning greeting from Kurt."•
Please enable JavaScript to view this content.