Volunteer
Eulala Roettger, Ascension St. Vincent Anderson
Eulala Roettger became a volunteer after she retired from classroom teaching in 1984, but it took her a while to find the perfect place to donate her time.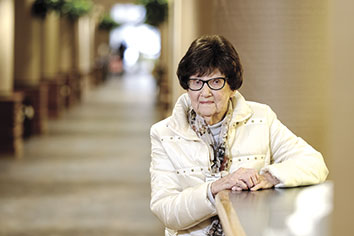 Eulala Roettger helps patients who are usually decades younger than she is. 
Roettger, who turns 100 in April, finally found the volunteer job that was right for her—20 years ago at Ascension St. Vincent Hospital in Anderson, where she is front-desk greeter at the Ambulatory Services Building. She answers questions, helps people find their way, and is ready with a wheelchair for patients who usually are several decades younger than she is.
After volunteering at an art center, serving as a photographer for an organization that takes pets into nursing homes, selling and taking tickets at the Paramount Theatre in Anderson, and working in the office of a former U.S. congressman, Roettger knew that working at the hospital was right for her.
"One job was too much driving, one was too much sitting, one was too much standing," she said. The hospital job "was just right." But her favorite thing about working at St. Vincent isn't the proper mix of sitting and standing. It's the people.
"The people who come in there seem lost and need help," she said, mentioning how friendly they are even when they're asking for help. "If I'm working a crossword puzzle, they help me with that. If I'm reading a book, they want to know what the book is about."
Roettger's co-workers say she's the friendly one. 
"She is just a delight," said Elizabeth Hart, the hospital's coordinator of mission and volunteer services. Hart said Roettger has donated about 8,300 hours in her two decades of volunteer work. She works three- or four-hour shifts twice a week after driving to the hospital in her sporty Mini Cooper.
When Roettger arrives, she can count on someone from the hospital lab to come out and park her car. To return the favor, Roettger likes to take the self-appointed valets to her favorite restaurant, Bonge's Tavern in nearby Perkinsville. Her nephew,  a regular there, always sees that there's a table ready for Roettger and her guests. 
The personal connections she's made since moving back to her native Madison County in 1988 are what she craved when she decided to volunteer. After a teaching career that took her from Lapel to Cambridge City to Connersville, where she retired after 27 years there teaching history at the junior-high level, Roettger launched her volunteer work at the McCurdy Mission School in Espanola, New Mexico. 
After two years of assisting the McCurdy principal and doing some hiking in the mountains between Santa Fe and Taos, Roettger moved back to Cambridge City, where she'd been married and lived for most of her teaching career. She volunteered in a dress shop there for a few years before deciding to move back to Anderson to be close to her nieces and nephews.
But she soon realized she didn't know the town or the people, so she jumped back into volunteering to reacquaint herself with the community. And to keep busy. 
Roettger thinks it's important to wake up every morning with something in mind that you're going to do. Volunteering helps accomplish that goal. "Even if you get up and don't think you feel very well, when you get to the job you feel great."
Volunteering isn't the only way she gives back. Roettger created a scholarship fund 20 years ago for any Madison County high school senior interested in going into teaching. Last year's recipient of the Eulala Roettger Scholarship for Future Teachers was awarded $3,500.•
Please enable JavaScript to view this content.