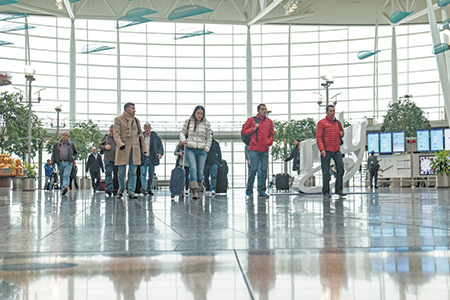 Indianapolis International Airport saw a record number of passengers last year, thanks mostly to significant growth in international airline traffic, fuller planes and the addition of 500 flights by Allegiant Air.
The airport served 9.4 million passengers in 2018, topping last year's record total of 8.8 million by 7.1 percent, airport officials announced Tuesday.
The total—an increase of more than 622,000 passengers from the previous year—included passengers on both arriving and departing flights.
Airline passenger traffic was up worldwide in 2018, but the local airport exceeded both U.S. and international growth rates.
Global passenger traffic rose 6.5 percent in 2018 and North American traffic increased 5 percent, according to the International Air Transport Association.
Total flights at the IIA were up by 4 percent in 2018, accounting for more than 300,000 additional available seats.
International flights increased by 28 percent in 2018, boosting international passenger traffic by 77 percent, or more than 60,000 passengers.
West Coast traffic also increased in 2018, with both flights and seat capacity up 45 percent compared with 2017.
Allegiant Air launched 500 more flights out of Indianapolis in 2018 after opening a new local plane base in February and increasing seat capacity by 40 percent. The airline serviced 160,000 more passengers locally than it did the previous year, according to an annual airline activity report provided by the airport.
The airport added nonstop routes to Paris; Charleston, South Carolina; Sarasota/Bradenton, Florida; and Oakland, California.
Additional flights to existing routes were added to Cancun by Southwest Airlines, Seattle by Delta Air Lines, Austin by Frontier Airlines and Southwest, and San Diego by Frontier. Frontier also reinstated two routes to Philadelphia and Fort Meyers, Florida
Mario Rodriguez, executive director of the Indianapolis Airport Authority, said airlines continue to boost capacity through more efficient scheduling—another factor leading to higher passenger counts.
Rodriguez said growth at the airport can be attributed to conversations officials began having with business and hospitality officials years ago. In response, the airport worked to land more international and West Coast flights.
"We've really been concentrating on meeting the needs of the business community," he said.
This year could also see impressive growth, Rodriguez said, as the airport adds more flights from low-cost carriers. That includes Spirit Airlines, which will establish service in Indianapolis this spring with daily, year-round nonstop flights to Las Vegas and Orlando.
Please enable JavaScript to view this content.