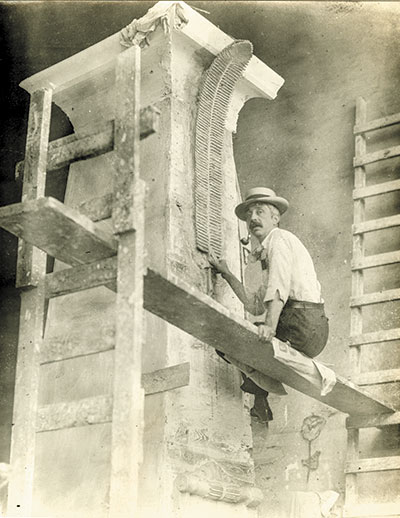 Rembrandt "Brandt" Theodore Steele (1870-1965), son of Indiana artist T.C. Steele, worked for the H. Lieber Co., where he drafted and designed furniture, frames and mirrors and did some stone carving. In this photo—believed to have been taken in 1910—Steele is shown working on the Lieber monument at Crown Hill Cemetery. Steele studied architecture and decorative arts in France and Germany and returned to Indianapolis to open Brandt Steele Pottery and was an instructor at the John Herron Art Institute.
Source: Indiana Historical Society
Credit: The photo is courtesy of the Indiana Historical Society. More images are available at images.indianahistory.org.
Please enable JavaScript to view this content.