Does Indiana's hate crimes law need to specify categories of victims to be effective?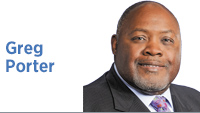 In the 27 years I have served in the Indiana General Assembly, one of my priorities has been passage of a hate crimes law in Indiana.
In that time, we have seen some changes that help us realize the scope of this problem. Back in 2000, we were able to pass legislation to provide more accurate reporting on crimes caused by such factors as race, religion, sexual orientation and disability.
That was nearly 20 years ago. We still lack a law with the kind of teeth that tells people Indiana is a state that respects diversity.
We could see that change in 2019. Gov. Eric Holcomb and business leaders have thrown their support behind passage of a hate crimes law. They have joined us in saying we are tired of Indiana's being one of five states without such a law.
But we have been down this road before, and the rising tide of support has drawn the usual complaints from both lawmakers and special-interest groups that would just as soon not have to deal with this problem. Ignore it and perhaps it will go away.
They claim existing case law covers any such instance in which hate and bias might have caused a crime and that you create constitutional problems by providing a list of protected classes.
But we must have a list to get off the list.
The point of a hate crimes law is to punish those who choose to commit crimes against people because of race, gender, age, religion and sexual orientation. These crimes are motivated by hatred of those who are different, so they paint a swastika on a synagogue or kill a man because he is a Muslim. Our communities are affected, and failing to address the motivations behind such acts leaves the impression that these concerns should be swept under a rug.
What does it say when we ignore these factors? Does it tell people that Indiana is a place where all are tolerated, regardless of the color of their skins or whom they love or what religion gives them comfort? No, it does not.
The current legislation proposing a hate crimes law (Senate Bill 12) offers no protections. It simply adds the word "bias" to state law without providing a definition of it.
Since 2008, more than 500 bias crimes have been reported in Indiana. As recent events in Carmel and Indianapolis show, the problem is not going away.
The laws we have on the books do not specify that our judges have the ability to consider bias as an aggravating factor when they sentence a defendant. Without a list, existing law isn't changed, it isn't clarified, and it doesn't protect victims who were targeted because of who they are or what they believe.
Those of us who have fought through the years to correct this injustice have learned the value of patience. Our numbers are growing, and those who oppose a hate crimes law are on the wrong side of history. We are right, and they are wrong.•
Click here for more Forefront columns.
__________
Porter represents District 96 in the Indiana House. He is senior vice president of external affairs for the Health and Hospital Corporation of Marion County.Send comments to ibjedit@ibj.com.
Please enable JavaScript to view this content.