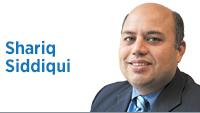 February was a difficult month for our state and city.
We heard that the Indiana Senate stripped hate crimes legislation of the language that made it meaningful. This was a cynical attempt by the GOP-controlled Senate to pass a law that would do nothing in the hopes Indiana could join 45 other U.S. states and the District of Columbia by passing hate crimes legislation. South Carolina, Arkansas, Wyoming, Indiana and Georgia are the only states in the union without hate crimes legislation.
This was a chilling message to Indiana minorities who continue to suffer from bias crimes with little legal protection from their Legislature.
This was despite the fact that, a few days earlier, Mustafa Ayoubi, a young immigrant Muslim-American, was shot to death in Indianapolis. The shooter allegedly yelled at Mustafa to go back where he had come from, and called the Prophet Muhammad a pedophile and other obscenities.
Mustafa immigrated to the United States from Afghanistan with his family in 2001 as a teenager. He later became a U.S. citizen and went on to graduate from the Indiana University Kelley School of Business. He was described as a smart, loving member of his close-knit family. He was shot multiple times in the back as he ran away from the shooter.
An amazing young man was shot to death because of where he was born and the religion he sought to practice. The Indiana Senate responded by gutting a hate crimes bill that was supported by Republican Gov. Eric Holcomb, the conservative Chamber of Commerce and many business leaders in the state.
It is time for businesses and corporate leaders to do more than pay lip service to the values of inclusivity and diversity and to clearly oppose hate and bigotry. It isn't enough to say these corporate leaders have vocally supported hate crimes legislation; they must follow those words with action.
While hate or bias crimes happen across the country, including the states that have hate crimes laws, Indiana's GOP Senate leadership is complicit in the bigotry and the hate that exists within Indiana. By their consistent opposition to hate crimes legislation, they have embraced a public policy that furthers hate.
I will take notice of corporations and business investing in Indiana. Not to celebrate the new jobs, the economic impact and their physical investments in our state. I will take note of those businesses and corporations that seek to embrace a state that has a public policy that explicitly embraces hate.
Indiana senators that passed this meaningless legislation have signaled their embrace of failing to oppose hatred, bigotry and prejudice. Businesses that invest in this state are just as complicit in the failure of hate crimes legislation in Indiana.
David Craig, chairman of the IUPUI Religious Studies Department, helps us understand in his writings on ethics and public policy that values are not just words. To have any meaning, they must be made explicit through ongoing debate within public policy, combined with action to build structures that articulate these values anew. He does not mean simply speaking these values.
Indiana's business leaders and businesses thinking about investing in Indiana must demonstrate their values—not simply in words, but by showing the Legislature there are consequences to its failure to oppose hate. I urge businesses and investors to look to other states that truly embrace the values of diversity and inclusivity and oppose bigotry and hate. I urge them to invest in states that protect amazing young men like Mustafa Ayoubi.•
Click here for more Forefront columns.
__________
Siddiqui is an attorney, has a doctorate from the Lilly Family School of Philanthropy at IU and leads the Association for Research on Nonprofit Organizations and Voluntary Action. Send comments to ibjedit@ibj.com.
Please enable JavaScript to view this content.