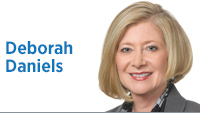 Indiana's General Assembly has taken important steps to make Indiana competitive, from the creation of the Indiana Economic Development Corp. to the right-to-work law to funding infrastructure improvements.
Now legislators are being asked to do something that might not seem quite so intuitive. But it is no less important to the economic success of our state.
While Indiana has developed many new jobs, there are not enough high-paying jobs to replace the thousands of high-paying manufacturing jobs lost to outsourcing and automation. Those jobs are not coming back, and we all know it. We must do everything we can to attract today's high-paying jobs, in an increasingly competitive environment.
To do that, we have to make Indiana appealing to both employers of new-economy workers and those workers themselves. Businesses looking to expand are seeking not just a physically attractive environment and amenities that will attract young, talented workers, but also a place that is clearly welcoming of a diverse workforce.
To be competitive, Indiana must be crystal-clear that we will protect our residents from crimes motivated by hatred of who they are or the beliefs they hold. So legislation was introduced again this year to add Indiana to the list of 45 states that have laws specifically addressing bias crimes. The original bill would allow judges to enhance sentences based on evidence that the crime was motivated by bias against certain classes of persons—mirroring the vast majority of other states' laws that include race, religion, ethnicity, nationality, gender, sexual orientation, gender identity, and disability as protected classes.
To its credit, a Senate committee adopted that language for Indiana. But after the bill was discussed in the Republican caucus, the protected classes were stripped, leaving only a general sentence enhancement for crimes motivated by "bias."
Why? Some lawmakers expressed concern that, by listing certain classes, they might be leaving someone out. But who? The original list is reflective of protected classes recognized nationally, by most states, and by several cities in Indiana already.
Is it the inclusion of gender identity that's the problem? Surely, even though one's personal beliefs don't condone another individual's gender identity, he or she should still condemn violence against that individual motivated by contempt for it.
Some claim judges already have discretion to enhance sentences. But the Prosecuting Attorneys Council supports the bill, because the sentencing law is not clear and judges are reluctant to enhance sentences without a specific law.
Some rural lawmakers think the strong message that businesses throughout the state want to send is not relevant to their communities. But what about Princeton, with its Toyota plant? Greensburg, with its Honda plant? Warsaw, with its need for talent in orthopedics manufacturing? The human resources officer for Hillenbrand, headquartered in Batesville but with a global presence, testified about Hillenbrand's pressing need for this law to attract talented employees.
And isn't it enough to say "bias" instead of listing specific protected classes? Will that compromise, which appears well-intended, suffice?
In a word, no.
When the state of Georgia tried to do exactly this, its Supreme Court unanimously struck down the law as unconstitutionally vague. According to the decision, the law could even have applied to a "rabid sports fan convicted of [threatening] a victim … wearing a competing team's baseball cap … ."
Legislators, this is one you can't compromise on. Our state needs this law—the full version—this year. Please do the right thing now.•
__________
Daniels, a partner at Krieg DeVault LLP, is a former U.S. attorney, assistant U.S. attorney general, and president of the Sagamore Institute. Send comments to ibjedit@ibj.com.
Please enable JavaScript to view this content.