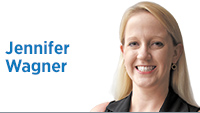 I didn't intend to become apathetic. It just happened over the past few years. A coping mechanism, really.
Whether we mean to or not, we strategically deploy dispassion in our personal lives to handle people who can't handle more than transactional relationships. But in this political climate, apathy has become a way of life.
How else are we supposed to get up each morning, flip on the news and not lose our minds?
The president declares a national emergency because he's mad no one will fund his border wall. I can't stop him.
The president's former lawyer testifies against him to Congress before heading off to prison. Didn't see that coming a year ago.
It's still unclear how much Russia meddled in the 2016 election—or who knew about it.
America, basically: ¯_(ツ)_/¯
But apathy should not be confused with avoidance. We're still registering these stories, wondering how much stranger things can get, whether it's all just a crazy dystopian dream from which we'll wake after the next election cycle.
That's a good thing. It means we can still check back in and engage on issues where it feels like our voices matter. The bias-crimes debate at the Statehouse is one of those, provoking a passionate push from a diverse group of supporters, including Gov. Eric Holcomb and many of Indiana's largest employers.
I had hoped lawmakers would see this as a no-brainer, especially after the recent spate of high-profile crimes that would likely trigger penalties under such a law. But instead of quickly passing a proposal and bringing our state in line with, um, basically every other state in the nation, the Senate gutted the bill, stripping out the list of specific characteristics that would be protected. Holcomb said the revised version wouldn't even get Indiana off the list of five—yes, five!—states without a bias-crimes law on the books.
Let's be clear: Indiana shouldn't pass this law because we're way behind the times. Heaven knows that's never been motivation for us before (see also: Sunday alcohol sales). We should pass it because of the protections it offers and the message it sends.
If you are not the victim, potential victim or perpetrator of a bias crime, you will not be affected by this law. But if you're someone who suffers harm because of who you are, how you identify, whom you love, the color of your skin, what religion you follow, or another protected characteristic, this law is invaluable. (Please note that this legislation will unfortunately not prevent such acts, and crimes will still be prosecuted with due process.)
It's also invaluable for the message it sends about our state: We welcome all, and our laws reflect that commitment.
It remains to be seen how this story ends as the legislative session continues, whether this issue will once again thrust us into a national spotlight no state seeks. But one thing is clear: We must shake off our apathy and be part of the debate. We owe it to those who already have been on the receiving end of hate in our state, and we owe it to those who live in fear each day that they will find themselves or their loved ones in that situation.•
Click here for more Forefront columns.
__________
Wagner is a lifelong Indianapolis resident and vice president of communications at EdChoice. Send comments to ibjedit@ibj.com.
Please enable JavaScript to view this content.