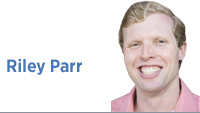 One of the things I enjoy about law school is the abundance of opinions and discussions that go on every day. Sit down anywhere in the school and, within minutes, you're bound to hear conversations on an odd combination of topics.
Just the other day while waiting for class to start, I overheard a group of students talking about the different restrictions states put on intra-family marriage. At least according to them, Indiana has fairly permissive marriage laws compared with the rest of the nation (I didn't take the time to research it myself). From there, the conversation I eavesdropped on turned to talk of various states' "dumb" laws, some of which are still enforced and some of which are not. That led me on a 15-minute hunt for examples. As it turns out, my colleagues weren't wrong.
What we might call dumb laws—fortunately, a ban on Sunday alcohol sales no longer applies—exist because somebody, at some time, thought we needed a law to fix some presumed harm. That North Carolina limits the length of bingo games to no more than five hours might seem innocuous, but turning to more laws, and thus government, to try to fix society's problems ironically compounds the very problems the well-intentioned tried to solve. Cicero, the ancient Roman thinker, said it best: "More law, less justice."
Looking to government to solve every ill should not be the first course of action for another reason: Government does not discriminate once citizens cede it power; it is much easier to give power to government than it is to take it back. Once government has gained a foothold, how it will act is anybody's guess. As President Reagan quipped, "A government bureau is the nearest thing to eternal life we'll ever see on this earth!"
The more fundamental question, though, is whether recourse to government—whether more laws—is actually the best avenue. Is government better equipped to address the challenges so many of its advocates believe it can?
In a free enterprise system, buyers and sellers succeed because somebody thinks what they are getting is more valuable than what they are giving up. But government action, especially in the areas better left to local communities, families and individuals, usually requires more coercive measures. It takes an impressive amount of hubris to face the American people and say, "I know better than you. You might think you know what you need, but I know what you really need."
Of course, that's not how proponents of more active government make their case. Oftentimes, they propose their well-intentioned solutions to very real concerns. But ignoring the consequences (or not even bothering to ask if the suggested remedy actually addresses the root of the problem) causes a snowball effect—which, in turn, leads to calls for more government action. Only in the most egregious of circumstances will recourse to the courts prove successful. Otherwise, those favoring a restrained government must satisfy themselves with a phrase of the late Supreme Court Justice Antonin Scalia: "Stupid, but constitutional."
It is not government's job to run its citizens' lives. We may, like that group of law students I overheard last week, laugh at laws that lack any rhyme or reason. And for good cause. I hope, though, those examples illustrate what happens when people expect government to play an outsized role—and that we will instead question if another law is the best option.•
__________
Parr is a student at the Indiana University Robert H. McKinney School of Law in Indianapolis and is treasurer of the Indiana Young Republicans. Send comments to [email protected]
Please enable JavaScript to view this content.