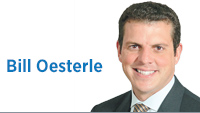 A few months ago, I wrote a column about 38th Street. To my initial surprise, it generated a record amount of feedback. Admittedly, my previous record wasn't that high, but 38th Street elicited nearly 100 messages.
In addition to learning that lots of people care, I also learned there have been three past planning attempts to address the challenges and opportunities associated with this important corridor. Given all the interest and effort, one might naturally ask, "Why is it still such a mess?"
The impending Monon Trail bridge project illustrates the causes well. This project is a proposed $4 million, 17-foot high Monon Trail bridge over 38th. It will likely span close to three blocks, beginning at 37th Street, rising up to two stories above 38th and then sloping back down to grade at 39th. If you haven't heard of this project, you aren't alone, as there has been almost no public discourse.
So, in spite of the tremendous implications for 38th Street and its neighbors and almost no neighborhood input, we are all getting a two-story bridge cutting across the 38th Street corridor. Direct access from the Monon to 38th will disappear.
This bridge exemplifies the "death by a thousand cuts" approach to 38th Street that has characterized development the last 60 years. Without establishing some overall goals for the street and some guidelines for projects that affect it, the street will never change—and that would be a tragedy.
The most comprehensive effort to fix 38th was the Indianapolis Department of Metropolitan Development's 38th Street Corridor Study in 1985. At more than 180 pages, the document is full of recommendations and drawings, almost none of which ever happened. My sense is that this project was too sweeping and too specific. It didn't have priorities or a sequence, so I suspect no one knew where to start.
As an alternative to a detailed vision, I think the stakeholders for 38th Street should attempt to adopt a list of defining principles. Principles should be general and fairly easy to apply. There should be less than five, and they should be prioritized. Ideally, the Indianapolis DMD would neither propose nor approve a project without meaningful consideration of these principles.
As a starter, I'll give you my five.
1) 38th street should be inclusive and connective. The street serves as the main connector among eight neighborhoods. It crosses three bike trails. It links three waterways, Newfields, Crown Hill Cemetery and the Indiana State Fairgrounds. Every project affecting 38th should enhance, or at the very least not destroy, neighborhood inclusivity and connection to the street.
2) The street should be pedestrian- and bicycle-friendly. Given the street's role as neighborhood-, trail- and attraction-connector, this is essential. The 1985 study called for wide, well-lighted sidewalks. That was before the Monon, Fall Creek or Towpath trails.
3) Traffic-calming should be a permanent, stated goal. Without reasonable calming of traffic, goals one and two are likely to fail. The 38th Street corridor has a 35-mile-per hour speed limit. It is virtually unenforced. Other cities innovate with high curbs, aggressive light patterns, visual slow-down cues, street parking and other ways to calm traffic. We should be state-of-the-art on this critical stretch.
5) The street needs visual continuity. Per the 1985 study, style and consistency are important. This applies to sign regulations, architecture and character. Anything with a material impact on the visual appearance should maintain its historical character and consistency.
The proposed bridge over 38th violates all five of these principles. It is another example of isolating the street. About $4 million will be spent, and the street will be far worse off. This has to stop. If you don't like my principles, please propose yours. We need to fix 38th.•
Click here for more Forefront columns.
__________
Oesterle is the CEO at Tmap LLC. He managed Republican Mitch Daniels' first run for governor. Send comments to ibjedit@ibj.com.
Please enable JavaScript to view this content.