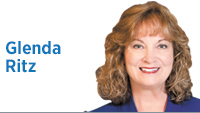 I am a teacher licensed to serve students with disabilities, and I worked 34 years with students with disabilities and their families.
Because I know about the one-to-one support needed to address each student's unique needs, I am appalled at the 616 students with disabilities not receiving the support they need through the Indiana Virtual School and the Indiana Virtual Pathways Academy. For these two schools, students with disabilities represent almost 10 percent of the enrolled students.
First, as I stated in a November 2017 IBJ article on virtual learning, these for-profit companies "prey on our most vulnerable students."
So, it does not surprise me that these virtual schools took the state tuition money to enroll students with disabilities whom they knew they could not appropriately serve.
Among these students with disabilities are students nearing graduation. The students are to earn the credits they need through a credit-recovery software known as Plato. Plato does have accommodations for students with disabilities, but students also need direct instruction and monitoring to be successful.
Needless to say, with only three teachers of record assigned to 616 students with disabilities, how can the proper support be given?
To further anger me, Plato is a credit-recovery software offered in many of our public high schools.
Why would our state fund close to full tuition per student to a virtual school to offer a graduation software that is available to students in many of our public high schools?
The last graduation rate of Indiana Virtual School for students with disabilities was 3.1 percent in any diploma designation, compared with 24 percent of all students. The graduation rate of Indiana Virtual Pathways Academy was 0 percent for students with disabilities, compared with 2.2 percent of all students.
Thanks to the ongoing investigation by Chalkbeat and the Department of Education's special education non-compliance letter and meetings, the authorizer has decided to begin the process to revoke the two virtual schools' charters.
The General Assembly should follow this example and move to revoke funding to virtual charter schools.
It is very troubling that our Legislature is advancing a bill to address the practices of virtual schools by adding some minor regulations. It is incomprehensible that the state of Indiana gives any funding to virtual schools, especially when our traditional public schools offer virtual learning.
Virtual schools were supposedly created to give students and families more public-school options. Our Legislature has been bent on keeping the virtual option available despite all the evidence that these schools are not capable of providing the services for the student populations they serve. Education decisions at the state level should be about serving students, not politics.•
Click here for more Forefront columns.
__________
Ritz, a Democrat, is a former state superintendent of public instruction. Send comments to ibjedit@ibj.com.
Please enable JavaScript to view this content.