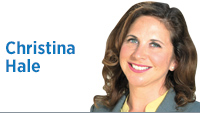 It is not easy to be elderly in Indiana. We have extreme heat and cold and far too few sidewalks and streetlights; and quality health care can be hard to access, depending on where you live.
When you are old, you should be able to count on family and community and just the goodness of people. And you sure don't need me to tell you that is far too often not the case. Increasingly, old people are finding themselves targets not only for fraud but also for physical abuse.
It was reported several years ago that, in Marion County, more public funding is spent on animal care and control than is spent statewide on adult protective services. Legislators promised to study the issue, and did. There was talk of appropriating a million dollars to help. That might even have happened. But the facts speak for themselves.
The Indiana FSSA reports that, in 2014, there were 38,594 calls for service in our state, a 300 percent increase over the previous 10 years. That year, 9,602 cases were investigated and yet there were only 28 APS investigators statewide. That was hardly adequate then, let alone today, as case volume increases and we prepare for the coming silver tsunami—the aging of the baby boomer generation.
Society can be accurately judged by how it treats its most vulnerable populations, including its children, disabled and elderly. Indiana needs to set up its game and acknowledge our responsibility to care for all these groups.
There are no easy answers, but finding a way to reach and investigate the thousands of cases that go under-resourced is a start. This is not just about your pretty and trusting grandmother having her jewelry or prescriptions stolen by her caregiver. That is bad enough, but it is survivable.
Sexual, emotional and other physical abuse happens every day to seniors you know around our state, and many of the perpetrators of crimes against the elderly are family. The opioid epidemic has not helped, as nefarious but desperate family members turn to those they perceive as easy marks to manipulate and harm to support their habits.
This problem will not go away. In fact, the evidence is clear from a variety of sources that this is becoming increasingly pervasive, serious and difficult to stop.
It is startling to think that, by 2050, 20 percent of all people will be 65 years old or older, and that the population group growing the fastest includes those who are older than 85. In 2010, about 5.8 million people were older than 85. This number is projected to increase to 19 million by 2050.
The Nursing Home Abuse Center describes this as a "silent condition," as no one tracks exactly how many of our nation's elderly are being exploited, neglected or abused, and, like other crimes of vulnerable populations, much of it goes unreported—for a variety of reasons. The center claims that, while convincing evidence suggests that thousands of elderly people are being harmed in the United States every day, no official statistics exist.
Imagining what life must be like old, alone and dependent upon the kindness and service of others, it seems like common sense to care for the elderly. And remembering to account for the care of the generations that have gone before us better than we are seems like the right and necessary thing to do.•
Click here for more Forefront columns.
__________
Hale is a former member of the Indiana House and ran for lieutenant governor in 2016 on the Democratic ticket. Send comments to ibjedit@ibj.com.
Please enable JavaScript to view this content.