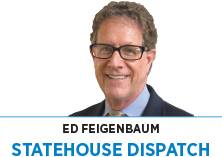 Why does there seem to be less partisanship in the General Assembly this year than in recent years?
Lawmakers enter the session's second half with 419 measures to consider by the time April ends, having pared down by two-thirds the 1,351 bills introduced to a more workable number.
A large chunk of Senate bills passed unanimously or with just one or two token votes of opposition. In the more contentious House, some 75 percent were passed with bipartisan support.
Many pieces of legislation are technical in nature, and many are presented to lawmakers by state agencies simply to help make government function more efficiently or effectively, with no policy connotations. But a few other explanations—beyond the fact that 2019 is only a municipal election year, no legislative elections—are contributing to the perceived dialed-down levels of partisanship.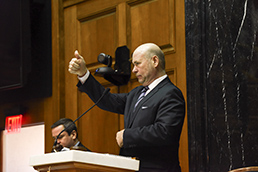 Republicans—led in the House by Speaker Brian Bosma of Indianapolis—have controlled the Legislature long enough to pass most of their big ideas. (IBJ photo/Eric Learned)
After several years of Republican supermajorities and control of the Governor's Office, the GOP policy agenda has little remaining that might be as objectionable to Democrats as, for example, right-to-work legislation, which sparked the historic 34-day Democratic walkout in 2011, or the repeal of common construction wage laws in 2015.
The major agenda items have largely been accomplished by Hoosier Republicans, and even such divisive issues as private-school vouchers and abortion restrictions are being chipped away at the margins each year, not in bold strokes.
Consider that House Speaker Brian Bosma, R-Indianapolis, this year made it clear that a "protection at conception" bill authored by Rep. Curt Nisly, R-Milford, would not receive a hearing, even as north-central Indiana social conservative activists advocated to make Indiana the federal test case for overturning Roe v. Wade under the new Supreme Court alignment.
Instead of engaging in that difficult fight, the House easily passed another bill, authored by Rep. Peggy Mayfield, R-Martinsville, that effectively bans a second-trimester abortion procedure.
Beyond the absence of issues on which to overreach, this year's hot-button item isn't partisan. The Senate's bias crimes measure—with "The List"—was initiated by mainstream Senate Republicans and backed by all Senate Democrats and Gov. Eric Holcomb, a Republican.
As it crosses to the House without the list, Holcomb—backed by the business and education establishment—wants the controversial list restored as a sentencing enhancement, making this anything but a partisan clash.
The hate crimes issue, much like same-sex unions and marriages, has transformed from a partisan to a generational divide, much as medical and recreational marijuana is destined for the next big-ticket attitudinal adjustment.
On a strictly political basis, Democrats have little to gain in 2020 legislative elections from being overly partisan. Quorum-proof GOP majorities mean they cannot affect lawmaking even by their absence. Their legislative leaders have adapted by chipping away where they can, educating GOP colleagues and the public and working to include practical ideas as Republicans deem appropriate.
Newer Democratic members such as Earl Harris Jr., D-East Chicago, are realistic, choosing their moments and biding their time. Rather than push amendments at every turn this session to make "Dreamers" eligible for in-state tuition, Harris will look for future opportunities as the idea becomes more mainstream and attitudes moderate.
While challenging an incumbent governor on policy often provides a political advantage for the minority party in the next gubernatorial election, Holcomb has carefully chosen his battles. Those conflicts are largely intra-party or between branches and not partisan. With the popular Holcomb looking strong for 2020, Democrats have no viable political reason to push back.
Given all this, watch for the 218 bills pending in the House and the 201 in the Senate to be largely debated on other than partisan grounds.•
__________
Feigenbaum publishes Indiana Legislative Insight for Hannah News Service. He can be reached at EDF@hannah-in.com.
Please enable JavaScript to view this content.