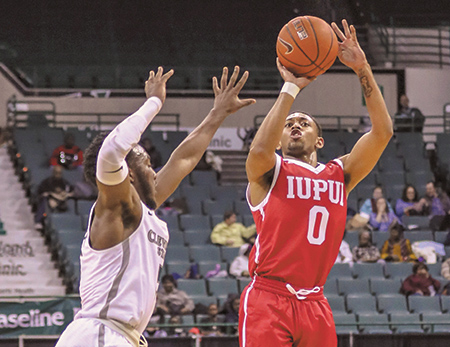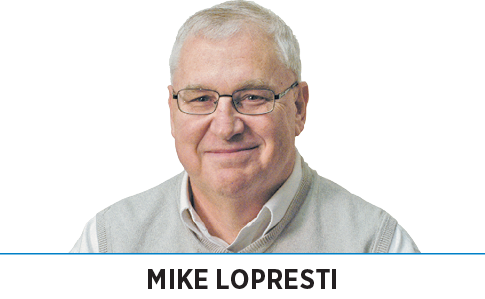 Look around this college basketball season, as it ends. Notice something? A lot of recruits plucked from Indiana high schools have their fingerprints on notable feats.
And so, time for another episode of "What's My Stat Line?" That's where the player describes his accomplishment, then we discover his identity. One caveat: This is for those who don't get mentioned that often around here, so never mind Indiana, Purdue or Butler. Contestant No. 1, please sign in.
◗ "Your dentist started as many games this season as I did. I came off the bench all 32 games, but I was the second-leading scorer at 11.9, which is why I was just named sixth man of the year in my league. The fellow with me? He's a teammate who was defensive player of the year, so our team got some hardware, even if we did finish sixth. Plus, I've buried a 3-pointer in 35 consecutive games, seventh longest streak in the nation. I'm … "
IUPUI sophomore and former Terre Haute South star Jaylen Minnett, who said the other day, "I've grown to actually like being the sixth man." With him is Fort Wayne Concordia's D.J. McCall, the Horizon League's top defender.
Next.
◗ "Speaking of 3-pointers, you know who has the longest streak in the nation at 48 games? Me. I'm … "
Eastern Illinois sophomore Mack Smith, who played at Warren Central.
◗ "I was named preseason player of the year in my conference. But that was before everyone went gaga over this young kid in our league. I'm … "
Belmont senior Dylan Windler, from Perry Meridian. He has done everything he could to validate being named Ohio Valley Conference preseason player of the year, as the league's top rebounder and third-leading scorer, with seven double-doubles of 30 or more points and 10 or more rebounds. But Murray State's Ja Morant has become a highlight show sensation and was named OVC player of the year. The Belmont Windlers and Murray State Morants—both 25-4—could well meet March 9 in the OVC championship game in Evansville. That would be as compelling as any league conference title game in the country.
◗ "You're not seeing triple; there are three of us. We're brothers, and the Basketball Hall of Fame wants our jerseys. Why? Because we're … "
Ernie, Everett and Robin Duncan of Vermont, by way of Evansville Harrison. On Jan. 23, they became only the second set of three brothers in Division I history to start for a team in the same game, and the first in 42 years. Hence, the Hall of Fame call. Senior Ernie is averaging 14.3 points; junior Everett, 6.7; freshman Robin, 5.1. With Vermont as the America East regular-season champion, they might take their sibling act to the NCAA Tournament. That's a long way from Evansville, where their father had them regularly working out at the YMCA, starting each day by watching tapes of Steve Nash playing in the NBA.
◗ "Nobody's asked for our jerseys, but there are three of us, too. And two of us are twins. We all went to the same junior college and we've stayed together to upend conventional wisdom in the Missouri Valley Conference. We're …"
Tremell and Anthony Murphy and D.J. Wilkins of Drake. The Bulldogs returned only one starter and two lettermen, brought in 10 newcomers, and were picked to finish ninth in the MVC this season. They ended up sharing the league season title, and three of those new faces were the Murphy brothers from Griffith, and Wilkins from Merrillville. Tremell and Wilkins start, Anthony comes off the bench, and together they contribute 27 points to the cause.
◗ "I helped Caleb Swanigan win the 2015 state championship with Homestead. Now, when I'm not working on my major in agriculture education leadership—you don't see that every day in the SEC—I've jumped in one year from a 7.3 average to leading the team and being in the top 16 in the conference in scoring at 13.9. I'm … "
Jordan Geist of Missouri.
◗ "You know my old coach. He got fired during the season, but I've carried on as one of the top scorers in the Pac-12. I'm the career leader on my team in points, 3-pointers and free throws, which ain't bad when you're a sophomore. I'm … "
Kris Wilkes of UCLA, and 2017 Mr. Basketball from North Central. This season went south early for the Bruins, which cost Steve Alford his job. Wilkes has scored in double figures in 27 of 29 games.
◗ "I'm the only player on my team who's started every game this season. We were pretty lousy earlier, but we're rolling now. I'm … "
Southport's Paul Scruggs, who began the week fifth in the Big East in 3-point shooting for Xavier.
◗ "Nobody in my league is averaging more minutes per game than I am. I'm also in the top 10 in the conference in scoring and field goal percentage. I played my Indiana high school basketball in 1A, but I'll tell you this—there's nothing very 1A about Kansas or Texas Tech. I'm …"
Desmond Bane, a TCU junior who played at Seton in Richmond.
◗ "I've already set freshman records at my school in points, rebounds and 3-pointers, and lead the team in scoring. Who needs freshman orientation? I'm … "
Chattanooga freshman Kevin Easley, yet another Lawrence North product.
◗ "With so many starters injured, I was put in the lineup. That was me guarding Romeo Langford when he went 4-for-14, but we lost, anyway, and a lot of Indiana fans rushed the floor to celebrate. Gee, they sure were happy about Purdue taking over first place in the Big Ten. I'm … "
Ben Davis' Aaron Henry, a freshman who is the latest to cross the state line and contribute to Michigan State.
◗ "Sixteen more points, and I become the 35th player at my school to score a thousand. But none of the other 34 did it as a sophomore. Some guys get their first names from a movie star or sports hero; I got mine from a shoe company. I'm … "
Crispus Attucks' Nike Sibande, who is the leading scorer for Miami, and disavows all connection to Zion Williamson's blown-out shoe.
Finally, lucky entry No. 13.
◗ "Lucky? Did you see what happened to my team last March? It was like "Hoosiers," only I was playing for Terhune. Anyway, I'm second in my league in 3-point shooting, with the highest career percentage in school history. There are players from five continents on my team. And one from Indiana. Me. I'm …"
Virginia's Kyle Guy, 2016 Mr. Basketball from Lawrence Central. As leading scorer, he's one of the reasons the Cavaliers are ranked No. 2 in the country, having gone 27-0 against every team in the world not named Duke. Now it's March, and Guy knows what's coming: Around every corner, someone bringing up last year's upset by No. 16 seed UMBC.
That's our show for tonight. Tune in again for another episode, because there will always be more names. Indiana still produces basketball players like it produces soybeans.•
__________
Lopresti is a lifelong resident of Richmond and a graduate of Ball State University. He was a columnist for USA Today and Gannett newspapers for 31 years; he covered 34 Final Fours, 30 Super Bowls, 32 World Series and 16 Olympics. His column appears weekly. He can be reached at mjl5853@aol.com.
Please enable JavaScript to view this content.