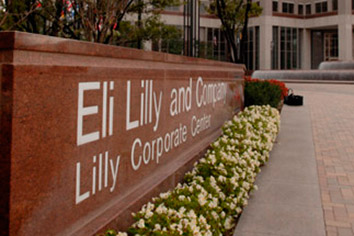 Eli Lilly and Co.'s request to the city of Indianapolis for a 10-year tax abatement worth about $7 million cleared its first City-County Council hurdle Monday night—though not without some council members expressing concern about whether the pharmaceutical giant really needed the discount on its tax bill. 
The council's Metropolitan and Economic Development Committee voted 9-1 to approve Lilly's request for the abatement, which is related to a $91 million investment the company is making in a building at the Lilly Technology Center on Kentucky Avenue.
The company is investing $48 million in real estate and $42 million in personal property to equip and expand an existing building on the campus to house Lilly's biosynthetic human insulin production operations.
But two Democratic councilors expressed concerns about giving Lilly a tax abatement. The company last received a $9.3 million tax abatement in 2017, in exchange for investing $159 million, again in insulin manufacturing operations.
Democrat Jared Evans said he plans to oppose the proposal when it reaches the full council because Lilly is not committing to add jobs in return for the incentive.
He also pointed out that Lilly employs far fewer people locally than it did just a few years ago as the result of an early-retirement buyout program that trimmed 2,300 employees.
"I have a lot of heartburn over this," Evans said. "I'm not against public incentives but they need to make sense for our community and they need to add a value. This is a very profitable company. I think they can take this on themselves."
Michael O'Connor, director of state government affairs for Lilly, told councilors Monday night that Lilly was "committing [that] we're not going to lessen manufacturing jobs."
"We think there will be continued growth," O'Connor said, but he said the company was conservative with growth figures and didn't want to promise new jobs.
The city has approved tax incentives in the past for companies that promised to retain jobs, not just create them. 
Evans also questioned the abatement in light of the fact that Lilly has been appealing its property-tax assessments annually, lowering the city's tax collections by millions of dollars. IBJ reported in 2018 that there is a debate within Mayor Joe Hogsett's administration about whether to grant Lilly more abatements until its property-tax assessment issues are cleared up.
And Council Vice President Zach Adamson, who voted against the proposal Monday night, questioned Lilly about a wage dispute last year regarding the janitors who clean Lilly facilities. 
Lilly doesn't directly employ those janitors; they work through a contractor. But Adamson said their low wages concern him.
"Your janitors are still making under the $12-an-hour range," Adamson said. "That is a concern for me. While they're not on your payroll directly, it poses a problem."
O'Connor said "there was a false narrative" that Lilly was responsible for the contractors' impasse with janitors. He said the company cannot force its contractor to pay its workers a certain wage. 
But Adamson said, "I want to make sure that you guys are doing what you can do" to help the workers.
Deputy Mayor Angela Smith-Jones said at the meeting that Hogsett's administration "stands behind this proposal." She said Lilly's corporate citizenship "absolutely pays more than whatever the abatement benefit is in a dollar amount."
Please enable JavaScript to view this content.