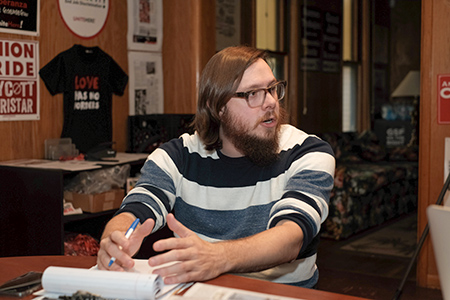 Clarence Jones works at Eli Lilly and Co.'s sprawling Technology Center downtown as a janitor. But Jones doesn't technically work for the Indianapolis pharmaceutical giant, the city's second-largest employer, known for its high salaries and lush benefits.
Instead, he is an employee of SBM Management Services, a California firm to which Lilly outsourced its janitorial work. At SBM, the starting wage is $9.75 per hour, and employees don't have paid sick days, according to the current union contract.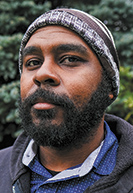 Clarence Jones
The work is harder than a typical janitorial job, said Jones, 37, who joined SBM nearly seven months ago.
"We work in facilities where there's a lot of chemicals that could harm us," he said. "There's a lot of heavy lifting."
The job has helped him get back on his feet after a stint of homelessness. But he said he hasn't made enough to justify signing up for health insurance—the premiums would be $280 per month. So he chooses to be uninsured.
Jones is like nearly 650 other Indianapolis-area janitors represented by the Service Employees International Union. They technically work for eight firms that take care of downtown office buildings. The four largest are SBM, New York-based ABM, France-based GSF, and California-based Platinum Cleaning Services.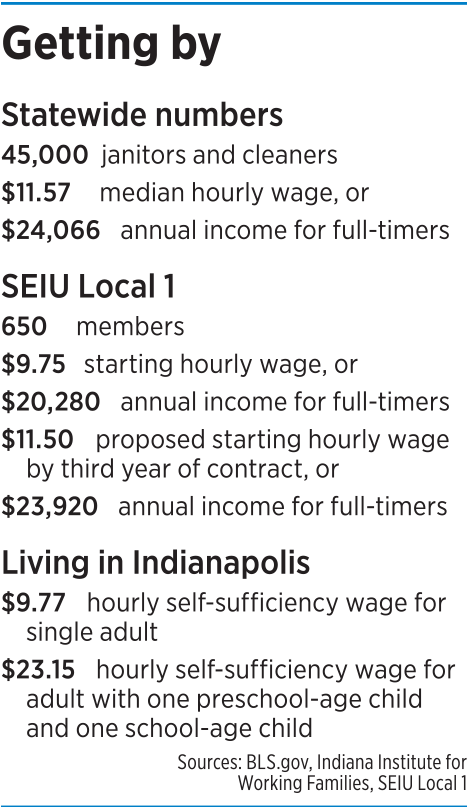 The janitors work in some of the city's most high-end office settings, including Lilly, Salesforce Tower, PNC Center and the OneAmerica Tower.
Jones said he feels that disconnect on a regular basis.
"Eli Lilly feels like it's not their responsibility to take care of those janitors," Jones said. "They give a lump sum to [SBM] and say, 'That's what you have to work with.' We work side by side with people working salaried jobs. We're just as valuable as they are."
The tensions have bubbled up this fall, as SEIU bargained with the eight firms on a new contract, all the while engaging in civil disobedience and group actions, culminating in an Oct. 25 protest at Lilly's campus where nearly 50 people, including two city-county councilors, were cited by police.
Contract negotiations began in August. SEIU and its allies in the labor community began targeting Lilly—even though it's not technically part of the negotiations—because they felt talks with the contractors didn't seem to be going anywhere, said Paul Nappier, organizer with SEIU Local 1.
It became necessary to "start engaging with their customers," which have stronger ties to the community, he said.
"If I've got a neighbor running a problem property, it may be that it's the tenant that's causing the problem, but at a certain point, if you keep having the same problem over and over, the owner of the building at some point has to be part of the solution," Nappier said. "Everything is set up in a way to avoid responsibility, but Lilly is not a company generally looking to avoid responsibility."
The pressure appears to have worked.
Shortly after the janitors' demonstrations at Lilly, Nappier said, the firms forged a tentative agreement with the union that would increase starting wages from $9.75 per hour to $11.50 over three years.
It also would decrease health insurance premiums to $100 per month, add paid sick and bereavement days, and require the firms to have more full-time workers. The agreement still needs to be ratified by the janitors themselves.
But even as Lilly has been front and center throughout the process, the firm has had little to say. Asked about the role Lilly played in the negotiations, spokesman J. Scott MacGregor said it had none and that "this was a matter between SBM and its employees."
Nappier said it seems clear Lilly was instrumental in striking the deal.
"Without being privy to private conversations, it would certainly look like Lilly once again showed that compassion," he said.
Widespread practice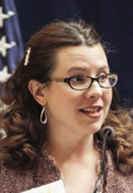 Fraser
The janitors' dispute has highlighted the practice of outsourcing—which groups advocating workers' rights argue contributes to the growing income inequality in Indianapolis and across the nation.
Jessica Fraser, director of the Indiana Institute for Working Families, said companies like Lilly that outsource low-skill work are "legally right that those are not their employees and they are not liable."
But she said that "when a company chooses to outsource, they know they're getting into a situation where they're getting the lowest possible wage they can."
"It's horrible for the people who are in that industry," Fraser said. "Their livelihoods are part of a bargaining chip of trying to save some money."
Companies often opt to outsource low-skill jobs as part of a strategy to focus on workers in their core businesses. The practice also helps companies save money when finances are tight.
But J. Adam Cobb, an assistant professor at the University of Texas-Austin who has studied the effect of outsourcing on inequality, said "the societal consequences are fairly profound."
Research Cobb conducted last year with colleague Ken-Hou Lin found that, from 1989 to 2014, due to outsourcing and other factors, the wage advantage that came from working for large companies declined significantly, but mostly for low- and middle-income workers. High-income workers still generally earned more from a large employer than they would doing the same work for a smaller employer.
That shift accounts for "about 20 percent of rising wage inequality during this period, suggesting that firms are of great importance for the study of rising inequality," according to the report.
'Hard to stomach'
For Lilly—and for many major American corporations—outsourcing is nothing new.
The Indianapolis pharmaceutical firm went on an outsourcing binge about a decade ago as it responded to industry pressures. In 2007, Lilly's CEO at the time, Sydney Taurel, said the firm would shrink itself with "great intensity" by outsourcing early-stage research, manufacturing, sales and more.
And back in 2004, Taurel wrote in an annual report to shareholders that the company had begun "the first phase of a long-term campaign to reduce our cost structure and improve our productivity from top to bottom."
Janitorial work, along with cafeteria work, has long been handled by contract, though Lilly did not provide a specific timeline.
But it wasn't always this way. Outsourcing gained steam in the late 1980s and early 1990s, Cobb said, and was "a sharp contrast to the way employment worked in the 30 years proceeding."
"You had large companies offering fairly stable employment for a lot of people, opportunities for advancement, and premium wages," he said. "Historically, firms, particularly large firms, had some desire to maintain perceptions of fairness as it relates to wages inside the company."
When financial markets and shareholders started rewarding companies for outsourcing, he said, many lower-level employees came off the payroll.
Cobb said that has widened the divide between low- and high-wage earners and led to more desperate times for some unskilled workers.
Zach Adamson, a Democratic city-county councilor who has participated in janitors' recent protests, said Lilly's embrace of outsourcing doesn't square with its pristine record as a corporate citizen.
"They do this kind of contracting not so they don't have personnel to manage, but so they don't have to be accountable for pitifully low wages," he said.
"If you're a large company like Lilly that has done amazing things in the city and are the recipients of enormous public subsidy, it's hard to stomach the fact they'd have that going on within their walls."
'The little things'
Given the improvements in wages, health premiums and sick days in SEIU's tentative agreement, ratification appears likely. Janitors hope to have the deal done by Thanksgiving.
The Indianapolis Area Service Contractors Association, which represents the companies the union was negotiating with, told IBJ in a statement that it is "pleased to have come to an agreement that is beneficial for all parties."
But janitors say the fight is not over. They still want to get starting hourly wages up to $13, a level equal to that of entry-level Indianapolis city government workers.
And Nappier said he wants to fight to further reduce health insurance costs.
"Poverty affects our entire city," he said. "When we have the working poor in our neighborhoods, neighborhoods struggle, and these folks are not able to invest in their community because they're struggling with basic necessities to get by."
Fraser said that, even with the wage increase, the janitors will still struggle. An $11.50 hourly wage is considered "self-sufficient" for a single Marion County adult, but not if the adult has dependents.
"They're going to have a really hard time finding affordable housing," she said. "This is a wage where you need public assistance to be able to survive. You're probably going to need the help of food pantries."
Jared Evans, another Democratic councilor who has supported the janitors, said the issue is personal for him. His mother, Debra Evans, was a janitor through much of his childhood and now supervises maintenance staff at Brebeuf Jesuit High School.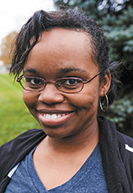 Doris Jones
Evans said his mother made nearly $9 per hour back in 1994 and he finds it "alarming" that the minimum salary for janitors has barely changed.
"Here we are 20 years later, almost 25, and we're talking about trying to get people up to $11.50," he said.
Doris Jones, a single mom who has worked as an SBM janitor at Lilly for six years, said that, despite her working full time, she and her 6-year-old daughter were evicted from their apartment last year, and her car was repossessed.
Jones, who is not related to Clarence Jones, said the higher wage in the proposed contract would allow her to pay off more of her student loan and credit card debt.
"My life was depending on this contract," Doris Jones said. "It was worth fighting for."•
Please enable JavaScript to view this content.