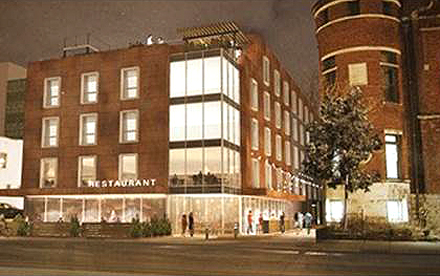 The developer of two downtown projects planned south of Massachusetts Avenue intends to ask the city for $6 million in financing to help build them.
Indianapolis-based Chase Development Inc. expects to make a formal request on March 20 for a $6 million bond that would be covered by property taxes generated by the projects and backed by the developer in case of a shortfall.
Although the projects are located two blocks apart, Chase has lumped them together under the name Block 20. The combined development cost is expected to be $40 million, according to President Dan Jacobs. He previewed his request for members of the city's Metropolitan Development Commission last week.
The Block 20 moniker originally was given to a four-story apartment complex proposed directly east of the historic Athenaeum building at 401 E. Michigan St. The project, situated at 428 N. East St., would have at least 75 apartment units along with 6,000 square feet of retail space and a 255-space parking garage. A large portion of the retail space is expected to house a to-be-determined restaurant.
Chase and the not-for-profit Athenaeum Foundation first announced the project in 2016, but it became ensnarled in legal battles until the Indiana Supreme Court declined to hear an appeal from neighboring property owners in late 2018.
The Block 20 name was derived from the block's position on the original plat of Indianapolis at the southeast corner of New Jersey and Michigan streets.
Chase's second project now included under the Block 20 name is located at 602 N. Park Ave., at the northwest corner of Park Avenue and North Street. Chase is planning to construct a 40,000-square-foot commercial building with high-end office space and 6,500 square feet of retail space. The project also includes renovations to a neighboring historic building that would bring 10,800 square feet of retail back to the market.
Jacobs told IBJ that he's seeking the developer-backed bond because the projects "drastically improve" the Massachusetts Avenue area.
He said there also would be a public art element. One percent of public financing is required to go toward art installations, and Jacobs said he plans to match that.
City officials have championed developer-backed bonds in recent years because they put developers on the hook if taxes generated by their projects don't cover all of the bond payments.
Jacobs said the infrastructure improvements associated with the project are likely to cost about $1 million, though it is not yet clear whether the developer or the city will cover those costs.
The bond request is expected to be heard formally during the March 20 meeting of the city's Metropolitan Development Commission.
Please enable JavaScript to view this content.