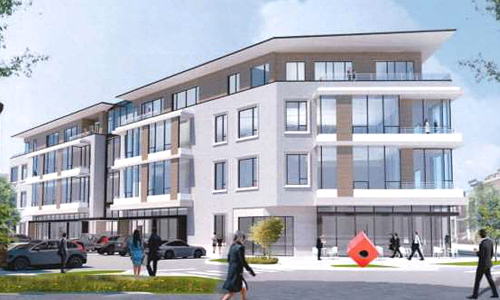 Two real estate projects within about a block of one another have been approved by the Indianapolis Historic Preservation Commission and are poised to reshape a stretch along Massachusetts Avenue.
Commissioners on Wednesday evening gave the green light to Stenz Construction Corp.'s plans to tear down a two-story office building at 646 Massachusetts Ave. and construct a four-story condominium project with ground-level retail space.
The building would feature nine condos, 4,500 square feet of retail and an underground parking garage with 17 spaces.
They also gave the go-ahead for local developer Block 20 to demolish the western part of what's known as the Tway building at 602 N. Park Ave. and construct a six-story office and retail building.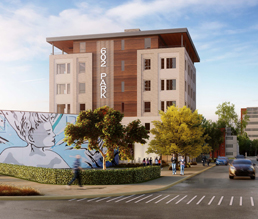 Under the proposal, a portion of the structure at 602-608 N. Park Ave. would be demolished and a six-story commercial building would be constructed. (Image courtesy Studio M Architecture & Planning)
The site, at the northwest corner of Park Avenue and North Street, sits about a block south of where Stenz would construct its condo building—a three-way intersection of Park, Massachusetts Avenue and Walnut Street.
Both Stenz and Block 20 presented their plans to the IHPC in April. Commissioners granted a continuance to Stenz after they voiced concerns about the design of the new building. They took no vote on the Block 20 project after hearing details of the project during what's known as a preliminary review.
On Wednesday, Stenz returned with a design from Axis Architecture + Interiors that commissioners found much more suitable than what the developer presented in April.
"The design is drastically improved," IHPC vice president W. Bruce Stauffer said. "I'm very impressed with it."
Commissioners in April mostly questioned the white stucco façade and also suggested the design of the building's backside should be improved to blend better with its neighbors on Walnut Street.
"We really had to do some soul-searching and rethink this project in its entirety," said Misha Rabinowitch, an attorney representing Stenz on the project.
The new design from Stenz reduces the size of the four-story building from 59 feet to 55 feet, moves parking underground and alters the façade with a darker brick that "accents the limestone along the base."
A Stenz spokesman said the start date for the project hasn't been determined and will depend to some extent on presales of the condominium units.
Stenz in December paid $1.4 million to purchase the two-story building at 646 Massachusetts Ave. The building had been owned by 646 Mass Ave. Partners Inc. Advertising executives Bruce Dean and Scott Johnson constructed the 5,826-square-foot building in 1996 to house an art gallery on the first floor and their graphic design and advertising firm above. Their current agency, AxiomPort, has moved to 1125 E. Brookside Ave. in the Circle City Industrial Complex.
To the south, Block 20 owner Dan Jacobs is buying the one-story Tway building, constructed in 1950 by the Tway Co., a wholesale distributor of rope, chain and cable. It was last occupied by Outlier's Brewing Co., which closed in June 2017.
Block 20's plans call for the western portion of the building to be demolished to make way for a six-story building with ground-level retail and office space above. The remaining portion of the building would be used for parking.
IHPC granted Block 20 approval, contingent upon meeting certain criteria. Locally based Studio M Architecture & Planning is the architect on the project. Construction is expected to start in the fall.
 
Please enable JavaScript to view this content.