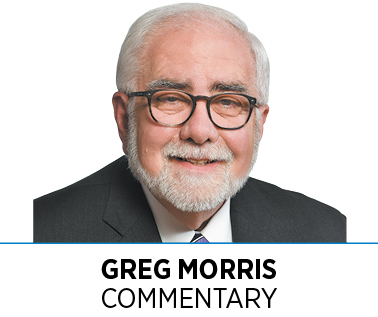 I am writing this week about Senate Bill 279, which would allow juveniles to be tried in adult court for attempted murder.
I urge the Indiana House of Representatives to support this bill allowing juvenile court to waive its jurisdiction if it finds that: (1) the child is charged with an act that would be murder or attempted murder if committed by an adult; (2) there is probable cause to believe the child has committed the act; and (3) the child was at least 12 years old when the act charged was allegedly committed; unless it would be in the best interests of the child and of the safety and welfare of the community for the child to remain within the juvenile justice system.
I commend Sen. Erin Houchin for authoring the bill and the Senate for passing it 45-3. It's now up to the House to send it to Gov. Eric Holcomb to sign.
I did not come to this opinion lightly. My wife and I raised three boys. The thought of being the parent of a young child who perpetrated a horrific act like the Noblesville West Middle School shooter did in May 2018 is unthinkable and heart-wrenching to consider. As a parent, you would have to deal with the guilt of all that. You would be devastated and extremely sorry for the victims and their families, your child, your family and yourself.
The ACLU, an organization I respect, says 12-year-olds do not belong in adult court. They say the Legislature is proposing a step back for juvenile justice. The Children's Policy and Law Initiative of Indiana has also voiced its opposition. Both groups point out the disparity that exists with a higher percentage of marginalized populations and specifically children of color in the criminal justice system.
Yet, taking all this into account, what about the people and their loved ones who are victims of serious crimes committed by children? Remember, we're talking about adding attempted murder to the law to allow prosecutors to charge children at least 12 years of age in adult court. We're talking about a very real recent event where a 13-year-old student admitted to conducting a premeditated brutal attack on two innocent victims in a school classroom. It's a miracle they both survived. And for this atrocity, the shooter has to be tried as a juvenile and can be held only until his 18th birthday.
Details of the shooting were slim and slow to come out. The media has not even given the name of the shooter because he was charged as a juvenile. The whole legal ordeal has been a travesty of justice.
Can't a person be forgiven and rehabilitated, especially a child, some will ask? That is not for me to say. However, I can definitively say that, in the case of the Noblesville shooter, five years of maximum juvenile detention is not long enough. Adult decisions and actions like this deserve adult consequences.
Additionally, the Noblesville school-shooting victims—student Ella Whistler and teacher Jason Seaman—deserve some small sense of justice from knowing there will be a law offering more appropriate consequences for those who might face a similar atrocity committed by a 12- to 13-year-old in the future.
To the House and the governor, please bring HB 279 to the finish line in this legislative session. Despite all the objections you'll hear, it's the right thing to do.•
__________
Morris is publisher of IBJ. His column appears every other week. To comment on this column, send email to gmorris@ibj.com.
Please enable JavaScript to view this content.