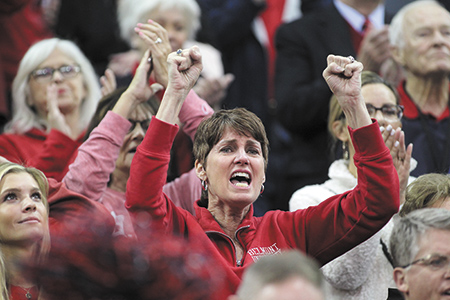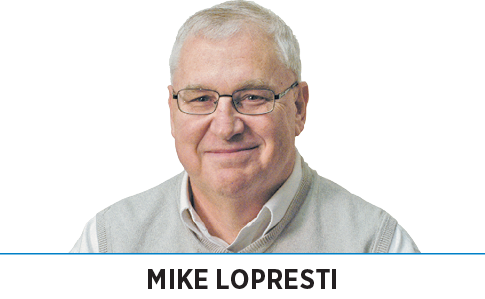 Editor's note: Belmont made the starting field of 68 teams in the NCAA men's basketball tournament. Its game against Temple University is scheduled for 9:10 p.m. Tuesday, March 19.
EVANSVILLE—They're a little emotional up in section 105, row G.
The mother, the stepfather, the sister, the girlfriend. They're here to see Perry Meridian's gift to college basketball. This 6-foot-8-inch kid from the south side who left his hometown with so little notice, but has accomplished so much a few hours down Interstate 65 in Nashville, Tenn.
Here he comes for warmups before the championship game of the Ohio Valley Conference tournament—No. 3 for Belmont, Dylan Windler. Only one Division I player in America is averaging 20 points, 10 rebounds and 2.5 assists a game. That's him.
The night before, with more than 40 NBA scouts here—drawn like bugs to a porch light for Murray State sensation Ja Morant, but here to see Windler, too—he put up 32 points and 21 rebounds in a semifinal win over Austin Peay. Wow numbers. But nothing new there. He had 41 points in one game this season and scored 20 in a row for his team in another. Nobody from the state of Indiana has produced the tonnage of statistics he has this season.
Oh, and did we mention he's an Academic All-American? Try a 3.75 grade point average in accounting.
Now he must face Murray State and Morant. Windler's a senior. In row G, they understand what that means. The last chance.
"I cried when I came out of the hotel tonight. This is surreal. We want this so bad. I mean, we're criers," mother Karen Eickman is saying.
"Starting with senior night, every game has been emotional, because this is the last time," sister Corey Windler says.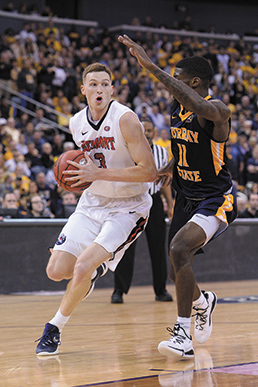 Dylan Windler of Belmont scored 17 points on March 9 against Murray State, but his Bruins lost 77-65. (AP photo)
They look down on the court and see one of the best players Belmont has ever produced. They see a grown young man. But they also see the little boy who begged anything he could get from the famous basketball players he worshipped.
"We would get stuff in the mail and think, 'Where is this coming from?' He was writing letters to players for their autographs," says stepfather Steve Eickman.
Corey remembers wondering what her brother was doing late at night, laboring over a piece of paper. Crafting pleas to NBA stars is what.
Karen: "We still have Shaquille O'Neal's headband. After a Pacers game, they were going through the tunnel and Shaquille lifted it up to Dylan. He [was] probably 10 years old."
They see the high schooler who was more known for golf, qualifying for the state tournament as a freshman. Basketball? Perry Meridian did not win a sectional game in his career. Not a single game. Nor did he make the All-Star team. He was developing rapidly as a player, but nothing then to suggest what was to come. Even to his parents.
Steve: "When he was in high school and everybody was talking about their kids being Division I athletes, I said, 'Karen, if something happens, it's all gravy,' because he wanted it, but he didn't get a lot of attention. And it has been gravy."
Karen: "I would never have guessed this in high school. I was never the mom that said, 'My son's going to the NBA.' When Dylan was a junior in high school, everybody knew he was a great golfer, and I said to him one day, 'Dylan, if you're thinking you want to play in college, do you want to play golf or basketball?' He said, 'Mom, I think basketball.'"
She was on the phone the next day, looking for AAU teams.
They see a silent type who might not get his share of attention because he just doesn't like to tell people much about himself.
"The problem with Dylan [is], he's so quiet, he doesn't tell us anything," his exasperated mother says. "I Google my own son's name to see what is going on in his life."
Ah, but she does have an informant. "Bless her," Karen says, nodding toward Lauren Rau, a Center Grove graduate who followed boyfriend Windler to Nashville and attends Lipscomb, just down the street. When Belmont and Lipscomb play, it's a hot rivalry and she roots for Belmont, but, "I try to be careful about what I wear."
They see the young man who hates to lose. Always has.
"He's so competitive in everything he does. Scrabble, tic-tac-toe—he's going to beat you," says his sister.
"He did the Rubik's Cube in about 30 seconds, that's how competitive he is," seconds his mother.
They see a senior who has had a storybook career, and they've tried to share it all. Karen has missed only three games this entire season, using her vacation days as sales specialist at a Greenwood retirement community for every Friday in January and February. She and Steve are such regulars on I-65 to Nashville, they might as well be truckers.
"It's 288 miles, one way. I know that," she says. "After this season, I'm getting a new car."
And now they see a son and brother who wants just one thing so very much: an opportunity to play in the NCAA Tournament. He'll never get another.
"We can tell as a family the first few minutes of him being on the floor how focused he is," Corey says. "He's been laser-focused in the tournament. You can see it in his eyes; you can see it in his heart."
That's why this night means so much. The winner gets the automatic bid to the NCAA Tournament, while the loser has to wait for an at-large bid. But this is not the Big Ten or ACC; at-large spots are rare. The Ohio Valley Conference hasn't seen one in 32 years.
Karen: "We just want him to have a chance, that's all we care about … ."
Three hours later, it's over. Windler has struggled with his outside shooting but given a strong effort everywhere else, finishing with 17 points, 12 rebounds and five assists. Morant has been spectacular with 36 points. Murray State has won 77-65.
It must have been tough up in row G, though there is one precious moment when Karen's parents are flashed on the scoreboard on kiss cam. An 80-something couple who came to watch their grandson, not smooch in public.
But at the end, Karen Eickman stands with her hands clasped in front of her. Steve looks on without expression. Corey and Lauren have their arms folded, watching Murray State celebrate. They head up the aisle to leave, just as the all-tournament team is announced, which, of course, includes Dylan. Later, the Murray State coach, Matt McMahon, would say, "Dylan Windler would be player of the year in 99 percent of the leagues in the country."
Just not the one with Ja Morant.
Dylan and his team and his school and his family now have to depend on the kindness of strangers on the NCAA selection committee. Belmont is 26-5. Good enough to get into the tournament with an at-large bid? They won't find out until March 17, selection Sunday. The mother in row G had not wanted to think about that situation beforehand, but understood it was a possibility, and knew what they'd all be doing this week.
"Hoping and praying."•
__________
Lopresti, who lives in Richmond, was a columnist for USA Today and Gannett newspapers for 31 years. He can be reached at mjl5853@aol.com.
Please enable JavaScript to view this content.