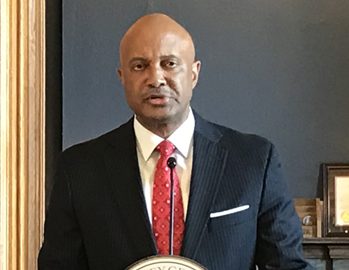 Indiana Attorney General Curtis Hill is facing formal ethics charges from the Indiana Supreme Court Disciplinary Commission, which filed a complaint against Hill on Tuesday over accusations he sexually assaulted four women last year.
The attorney misconduct charges have the potential to impact Hill's legal ability to continue serving as AG.
The complaint alleges Hill, an elected official and the state's highest law enforcement officer, violated Indiana Rules of Professional Conduct 8.4(b) and (d) and Indiana Rule of Admission and Discipline 22 when he allegedly groped a female lawmaker and three legislative staffers at an end-of-session party last March.
Democratic Rep. Mara Candelaria Reardon, Reardon aid Samantha Lozano, Senate Democratic communications director Gabrielle McLemore and Senate Republican aid Niki DaSilva each alleged Hill inappropriately touched them during a March 14, 2018, party at AJ's Lounge in downtown Indianapolis that went into the next morning.
Specifically, Reardon has alleged that Hill rubbed his hand down her bare back and grabbed or touched her buttocks at least once, then touched her bare back a second time. Likewise, McLemore has alleged Hill rubbed his hand up and down her back "for a significant period of time," while Lozano said the AG "wrapped his arm around (her) wait and pulled her close to him," according to the complaint.
DaSilva alleges Hill rubbed his hand up and down her back, and when she tried to push him away, he grabbed her hand and put both of their hands on her buttocks, the complaint said.
This conduct, according to the complaint, would constitute Class B misdemeanor acts of battery and Level 6 felony sexual battery.
The complaint says Hill, by virtue of being the elected attorney general, "has a heightened duty of ethical conduct that is long established in Indiana ethics law." His "ethical violations and offensive conduct reflect poorly on the legal profession and does incalculable harm to the public perception of the Attorney General's office and all the state agencies it represents."
The commission urged the Indiana Supreme Court to discipline Hill for professional misconduct and to order him to pay the costs of the proceedings.
Representing Hill, attorney Don Lundberg released a statement on Tuesday afternoon noting that the allegations already have been investigated three times without any action taken against Hill.
"There was an investigation undertaken by the General Assembly, another by the inspector general and, finally, one by the special prosecutor.  And after having reviewed all the information, all three reached the same conclusion: no further action was warranted," the statement read.
"The Attorney General remains focused on serving the people of Indiana. This matter will be addressed through the proper process outlined for disciplinary complaints in the State of Indiana and we are confident it will conclude in a manner consistent with the results of the prior investigations."
The AG has vehemently denied the allegations since they were made public, which the commission has interpreted as Hill denying responsibility. The commission also alleges Hill lacks remorse and acted "with the selfish motive to arouse his sexual desires."
Hill has 30 days to respond to the commission's complaint. The AG's Office did not immediately respond to messages seeking comment about the complaint.
The Indiana Supreme Court will make the ultimate decision as to what sanctions, if any, are appropriate. The complaint does not recommend a sanction or fine.
If Hill is disciplined, the sanction could prohibit him from serving as attorney general or in any legal capacity. Disbarred and suspended attorneys are prohibited from conducting legal work for as long as their sanctions are in place.
The court also could impose a public or private reprimand, which does not necessarily preclude an attorney from working in a legal capacity. The high court also could decline to impose any disciplinary sanction.
Hill has also questioned the veracity of his accusers' stories, at one point releasing an email from DaSilva that he said showed coordination among the women. In preparing to go public as a Hill accuser in July, DaSilva emailed an employee of the AG's Office to review her statement. However, that employee was no longer employed in the office, so DaSilva's email was forwarded and reached the AG's desk.
Since the sexual misconduct allegations became public, pressure has been mounting for Hill to resign. State leaders from both parties—including Gov. Eric Holcomb, House Speaker Brian Bosma and former Senate President Pro Tem David Long, all fellow Republicans—have called on the AG to step down, saying his misconduct was not becoming of an elected official.
In October, a special prosecutor appointed to investigate the allegations decided against filing criminal charges against Hill. Prosecutor Daniel Sigler said he believed the four women but couldn't prove that Hill intended to touch them in a "rude, insolent or angry manner," as is required by statute.
The four women who have accused Hill of groping them said Tuesday they were pleased their accusations were being taken seriously.
"The filing today was not in response to any action we took, as we did not file a grievance with the Indiana Disciplinary Commission," the four women said in a joint statement. "However, we are pleased to see that the sexual harassment and battery we faced from Curtis Hill is being taken seriously and that his ethics as the state's highest legal officer are being reviewed."
In a statement released Tuesday, House Minority Leader Phil GiaQuinta, D-Fort Wayne, repeated the call for Hill's resignation.
"I am pleased to see that the Supreme Court Disciplinary Commission has taken the allegations against Attorney General Hill seriously," GiaQuinta wrote. "I certainly believe the women in this case and echo statements made by my fellow legislative leaders calling for Attorney General Hill to resign. The chief law enforcement officer of our state should be held to the highest standard of decorum and it's clear the attorney general cannot meet that standard."
Although Hill is not facing criminal charges for the sexual misconduct allegations, his accusers have announced plans to pursue a civil suit for damages against the attorney general. So far, the women have filed a charge with the Equal Employment Opportunity Commission and a tort claim notice with Hill's office announcing their plans to sue Hill, his office and the state.
Kevin Betz, an Indianapolis attorney who is representing Hill in the EEOC charge, said it is much too early to know if the disciplinary action will have any impact on a potential civil suit. Betz stressed that he is representing Hill only in the civil matter, not in the disciplinary action.
Please enable JavaScript to view this content.