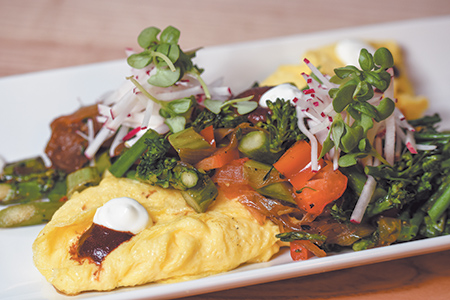 Cunningham Restaurant Group has targeted The Yard at Fishers District for its second Rize restaurant, project developer Thompson Thrift Retail Group announced Tuesday.
Rize plans to lease 3,833 square feet of space at The Yard for a restaurant that will seat 120. The restaurant's existing location is at Ironworks Hotel, 2721 E. 86th St., in Indianapolis, which opened in 2017. The Yard location will seat twice as many patrons as the original Rize.
Rize offers breakfast, brunch and lunch items with a menu leaning toward healthier, lighter food and beverages options, including salads, breakfast bowls and topped toasts.
"We are very excited that Rize will be a part of the culinary experience at Fishers District," Ashlee Boyd, managing partner for Thompson Thrift Retail Group, said in written comments. "Mike Cunningham, (president and CEO of The Cunningham Group) is known for his vision and execution of fine dining, and Rize is another example of his passion for the restaurant industry and growth of his brand."
Cunningham Restaurant Group's eateries include Bru Burger, Mesh, Stone Creek Dining Co. and Livery. 
Rize features locally-sourced products from Gunthrop Farm, Fischer Farms, Silverthorn Farm, Blue Dog Bakery, Burton's Maplewood Farm, My Sugar Pie, Eisele's Honey and Tulip Tree Creamery. It also showcases locally grown produce from the CRG Grow Greenhouse on the south side of Indianapolis.
CRG Grow Greenhouse uses vertical hydroponic growing towers that supply Rise with fresh greens.
The Yard, a 17-acre culinary district under construction at the southeast corner of 116th Street and Ikea Way, is expected to be complete later this year, with its first tenants opening their doors in the fall.
Please enable JavaScript to view this content.