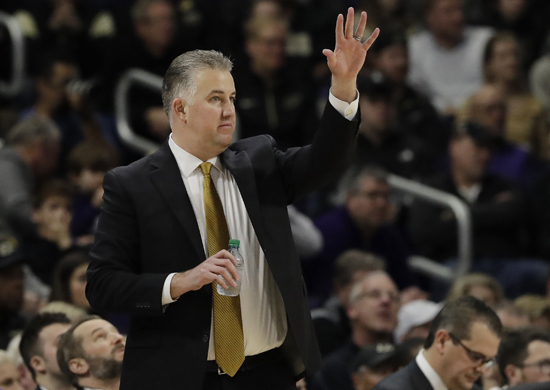 A deep run in this year's NCAA men's basketball tournament could position Purdue University among the nation's elite college programs, and it also could provide a big payout for head coach Matt Painter.
The coach would receive about $780,000 in bonuses for Purdue's on-court accomplishments this year if the Boilermakers win the title—and possibly more.
The terms of Painter's contract, which runs through the 2021-2022 season, includes an abundance of performance-based bonuses worth tens of thousands of dollars, including several related to how well this season's 23-9 team could do in this year's tournament.
The No. 3-seed Boilermakers play in the first round of the NCAA Tournament on Thursday against 14-seed Old Dominion in Hartford, Connecticut. Tip-off is set for 9:50 p.m.
Painter's bonuses are based on a number set in his contract called the performance base—$948,963—created specifically for the purpose of calculating incentive payments.
The coach has already scored a few bonuses due to the team's first-place regular season finish in the Big Ten, being named the conference Coach of the Year, and the team's bid to the NCAA Tournament.
Those have given Painter $166,068 in bonuses, which are piled atop his already-lucrative contract that this season nets him nearly $2.7 million, with a base pay of $265,000. Painter receives a supplemental stipend from the school as well, totaling about $2.4 million, which is for public appearances, promotions on the Purdue website and appearances on television and radio spots produced for the purpose of promoting Purdue.
If Purdue wins the first two games of the tournament, Painter will receive a 2.5 percent bonus ($23,724) for each victory, while a win in the Sweet Sixteen would net a 5 percent, or $47,448, bonus.
A win in the Sweet Sixteen would also give Painter an additional bonus of at least 10 percent—$94.896.30—with the exact amount determined by Purdue President Mitch Daniels and Athletic Director Mike Bobinski. Likewise, wins in the Elite Eight, Final Four and National Championship games also would earn the coach additional 5 percent bonuses, as well as separate bonuses of at least 10 percent for each victory, to be determined by Daniels and Bobinski.
A national title would result in Painter being paid at least $616.826 for NCAA tournament victories—not considering the possibility the Sweet Sixteen and later bonuses from Daniels and Bobinski could exceed 10 percent.
So, his bonus tally at year's end, including the bonuses already awarded this seasos, would be nearly $782,985.
Painter, a Muncie native, is 318-158 in 14 seasons at Purdue, with a 12-11 record in the NCAA tournament in 12 appearances.
Incentive structures like that found in Painter's contract are the norm in college basketball now, with some of the nation's top programs offering even higher payoffs for coaches that take their teams deep in the NCAA tournament.
Indiana head coach Archie Miller could have received upwards of $1 million in performance bonuses if the Hoosiers had reached the NCAA tournament and won the championship. Alas, no specific terms in Miller's agreement discuss incentives for an NIT berth.
Painter also could receive incentives based on academics—specifically for when the team's cumulative grade point average meets or exceeds expectations.
The classroom performance element won't be determined until the conclusion of the spring semester. The maximum bonus would be $56,938.
Please enable JavaScript to view this content.