Should IPS continue in the direction former Superintendent Lewis Ferebee set or slow down the reforms?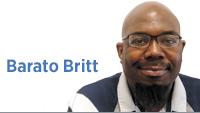 Change is far from easy, and it's never perfect.
Radical change, despite necessity, is even tougher, particularly when our children's lives hang in the balance.
As a long-time supporter of reforms that foster greater access to high-quality public school options for all students, I recognize we are not far removed from status quo in our current approach to public education.
Having the privilege of working for students and families in the Martindale-Brightwood community for the past 10 years, I witnessed the conflagration of adverse impacts such as teacher and leadership churn in traditional public schools, only exacerbating the trauma our students experienced before they even set foot on school grounds. These unacceptable trends necessitated radical adjustment that superseded any silos preventing honest dialogue toward solutions.
By 2014, we reached an inflection point, where the politically safe option simply was unsustainable, even for many of our city's most ardent traditional public school defenders. It is in fact the urgency for positive change that I believe has led IPS' transformative strategies for the past several years—and is exactly the reason why we must stay the course.
With the introduction of Innovation Network School five years ago, IPS ushered in a new approach in which it sought to reimagine all public schools serving students within its boundary. For too long, reforms lacked the participation of the state's largest district, resulting in natural and appropriate resistance. In choosing this strategy, IPS has assumed its rightful role as the critical player in development of an educational environment rich in choice and access for families.
At the same time, the need for greater local input and autonomy has led to renewed partner stakeholder investment and a collective impact strategy, recognizing that schools in isolation are incapable of addressing the full scope of challenges that stifle achievement in our underserved communities.
As these reforms evolve, IPS has also become increasingly responsive to community investment strategies that align with broader quality of life initiatives. Martindale-Brightwood, for example, has benefitted from this approach as our collective voice was heard and accepted this month via IPS' decision to add KIPP Legacy High School as an extension of the larger KIPP-Indy Public Schools Innovation Network and now the IPS portfolio of options.
This strategic partnership serves as one example of what transformation can look like when communities are active partners. That this innovation occurred after Dr. Ferebee's transition only affirms our confidence that IPS' efforts are well positioned to continue under the district's present leadership.
Today, like a growing number of communities, Martindale-Brightwood stands ready to do what is necessary under the steadfast leadership of the district's board of school commissioners and Aleesia Johnson, our first African-American female superintendent.
Serious partners without political motivations know that systemic positive student outcomes can only be achieved through comprehensive approaches. We must continue to uplift strategies and thoughtful leaders that are making serious changes to substantially impact the lives of all children.
My support is also very personal. I am the proud parent of an IPS sixth grader, and I demand my son be educated in a world-class system that spares no expense to ensure all students can successfully compete. I take comfort and pride in knowing IPS is unashamedly soldiering toward that goal.•
__________
Britt is the executive director of the Edna Martin Christian Center Leadership & Legacy Academy. Send comments to ibjedit@ibj.com.
Click here for more Forefront columns.
Please enable JavaScript to view this content.