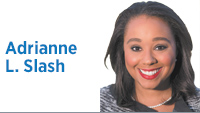 Diversity seems to be a major goal of every company, organization and community, but do we really want it?
We know that the return on investment for creating inclusive spaces is immeasurably great; however, it can also be immeasurably painful to watch the growing pains play out. When we create inclusive spaces, and begin to see them diversify in race, gender, religion, thought, etc., we often expect to see and hear the same ideologies as before. Why? Why should we expect the exact same voices, comments and experiences from a completely different group of contributors? Or, do we like the idea the way diversity looks, just not all that comes with it?
Take a real step back and consider: The world as you see it is just that—as you see it. The world as I see it is just that—as I see it. When you and I sit down and chat, we both have the opportunity to discuss the world, our experiences, our hopes and dreams—and our concerns. When we add more people to the conversation (the look of diversity) and the room fills up, we have even more worldviews. Of course, some things that people say will shock us or impulsively make us think (or say) "that's not true!" But should we discount those words? No. We should welcome more views to the table and strive for more equitable outcomes.
As public service diversifies and we begin to hear the assertive voices from communities we've often left out of the conversation (but discussed in the conversation), we will begin to see change. Having a voice in a conversation rather than being the topic of the conversation leads to more equitable outcomes.
Shirley Chisolm, in 1970, said, "If they don't give you a seat at the table, bring a folding chair." Well, we have our seats and we represent all cultures, communities, ethnicities and experiences. And, to the dismay of many, we're bringing a different type of energy to the table. That energy encompasses the passion of caretakers and keepers of the future of this country. That energy also comes fueled by different life experiences and perspectives that may not have been at the table before. And, that energy is anchored in promises made and desired to be kept to constituents.
In honor of International Women's Month, let's apply this to newly minted women in Congress. As a nation, we have the choice to reap the benefits of diversity or try to force our new leaders into an old box. A few things have been said about our newly minted public service "SHEroes": They need to wait their turn. They need to listen more. They curse too much. Or they don't know what they're talking about.
I find it interesting that we would say these things about women leaders, but that we openly accept their boisterous, conversation monopolizing, dominating male counterparts. Have we quickly forgotten how many votes from their communities it took to get these women there? They're not there by ease, luck of the draw or popularity. They earned the trust of their constituents. Let's give them a shot.
Shirley Chisolm also said, "In the end, anti-black, anti-female and all forms of discrimination are equivalent to the same thing: anti-humanism." Embracing diversity is embracing all that makes us human and uniquely qualified to represent ourselves. I applaud any public servant who brings their whole self to work and fights for their community.•
__________
Slash is a diversity and inclusion consultant in the health care industry and is president of The Exchange at the Indianapolis Urban League.Send comments to ibjedit@ibj.com.
Click here for more Forefront columns.
Please enable JavaScript to view this content.