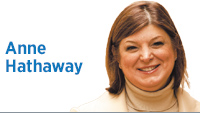 Last year, a record number of women were sworn in to the 116th Congress. This is a victory not only for today's women, but for our daughters and our granddaughters, as well. One hundred twenty-seven women, more women than ever before, now hold seats in Congress and more importantly "seats at the tables" where the nation's most important conversations are held.
I should be overjoyed, but as a Republican woman, I cannot break out the bubbly just yet.
Of those women, only 21 are Republicans—making up merely three percent of Congress. I am honored to say two of those 21 women are Hoosier Reps. Susan Brooks and Jackie Walorski. But, when women represent more than 50 percent of the electorate nationwide, we are still far from parity.
That raises the question: What can we do to spark a change and empower women to run for office?
A third-term congresswoman, Rep. Elise Stefanik, R-New York, is tackling what she calls the GOP women's crisis head on and making strides toward not only attracting women to run for office, but attracting female voters to the polls to vote for conservatives.
Stefanik is a political trailblazer, having won her first congressional campaign at the age of 30. She never shies away from speaking loudly and clearly about her views and providing her opinion on the direction of the country.
We need more politicians like Rep. Stefanik—who will keynote the 2019 Richard G. Lugar Excellence in Public Service Series luncheon on April 5. And here is why.
She is a bold, forward-thinker. After Republicans suffered a tough mid-term election, Stefanik recognized a significant threat to her party's long-term viability: female voters. Republican women are not running for office, nor are they voting for conservatives. She had the courage, despite party opposition, to speak out about this issue and to urge her fellow Republicans to rethink campaign strategy to engage and excite female voters. This is the type of foresight and strategic thinking we need in Congress.
She reaches across the political divide to get things accomplished. At a time of gridlock and government shutdown, the ability to reach across the aisle and be bipartisan is necessary.
Stefanik markets herself as the independent voice, which guides her day-to-day activity as she evaluates both sides of a matter and then makes an educated decision.
Just last month, she urged President Trump to sign a bipartisan appropriations bill that would avoid another government shutdown. She previously spearheaded bipartisan reforms on issues ranging from education, to health care, to growing the economy. In 2017, she was recognized by the Lugar Center as one of the most bipartisan members of Congress. We need this type of bipartisanship.
Stefanik is a strong advocate and role model for women and girls. Stefanik is well known for her passion for women's causes and electing more conservative female representation into Congress. She understands that a diverse set of lawmakers results in better representation for women and minorities and stronger policies for our nation.
That's why in January, Stefanik launched E-PAC, a group to engage, empower, elevate and ultimately elect more Republican women to Congress. Stefanik holds that all issues are women's issues—they are not siloed—and approaches policies with that in mind. We need more women, like Stefanik, fighting for women.
Congresswoman Stefanik is a great politician who is leading the charge in building up, recruiting and electing more great politicians. We need more Republican women like her in Congress.
When that happens, I will celebrate.•
__________
Hathaway is president and CEO of Hathaway Strategies, chairwoman of the Julian Center board and former chief of staff of the Republican National Committee. Send comments to ibjedit@ibj.com.
Click here for more Forefront columns.
Please enable JavaScript to view this content.