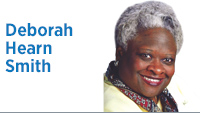 Women's History month is now underway and we are highlighting the contributions of women in the United States.
This month includes International Women's Day, when we pause to contemplate the role and conditions of women globally. We recognize that that 50 percent of the population of the world does not have basic human rights. The conditions I have witnessed firsthand are heartbreaking. We cannot close our eyes and ears to the plight of our sisters who are living lives of quiet desperation.
As an African American woman, I embrace the month with a little hesitance. I fully support the equality of women in every aspect of life and recognize the impact women have had in the world. But history of the movement has at critical times excluded women of color. The biggest accomplishment for women was acquiring the right to vote. Next year will be the 100th anniversary of the ratification of the 19th Amendment.
But all too often, we forget the fact that there were black suffragettes. We must not forget women like Ida B Wells, Sojourner Truth or Mary Church Terrell. The tragedy was that the amendment passed but did not extend the right to vote to women of color. History must not repeat itself and disregard women of color; we must be at the table at all times to insure our voice is heard.
I once again call upon people of faith and goodwill to step forward and speak out. Small acts when multiplied become a quiet revolution, and it is time to reject the society norms that continue to subjugate women. Most of us want to help but feel small given the magnitude of the issues.
In my travels, I have witnessed the change in the lives of women and girls when their economic conditions improve. When we purchase the goods they produce, it has a life altering impact. There are several local outlets to purchase these items, such as Global Gifts. Many more outlets online have artisan items from all over the impoverished world. Food items—particularly coffee and chocolate—are available. Charity and aid are important, but economic empowerment is sustainable and gives dignity to all. To celebrate and honor our global sisters, shop this month for goods they produce.
The problems for women in the United States still persist. Our issues fall into two categories. First the unspoken double standards. For example, qualities admired in men are a liability for women. These cultural norms have been so ingrained in our system they are normalized. I cringe when I hear someone say the father is at home babysitting his own children. A campaign to ban the word "bossy" in talking about girls and women received such backlash that it's obvious it struck a nerve. The same can be true of other promotions that challenge our verbiage. Language is important; we need to watch it closely. Let's use words like smart, confident, courageous and strong as admirable traits in women and girls.
The second area is the laws that do not give the same respect and dignity to women. The battle now is for equal pay, work environments that support families, health care, quality education not dependent on zip code, and control of our bodies. And as the state Legislature comes to the end, we must analyze their work through a lens of advancing women.
The best way to honor Women's History Month is to look ahead to the 100th anniversary of the 19th Amendment and use the vote to elect women and men who have demonstrated by their record they stand for the equality of women without compromise.•
__________
Smith is former CEO of the Girl Scouts of Central Indiana. Send comments toibjedit@ibj.com.
Click here for more Forefront columns.
Please enable JavaScript to view this content.