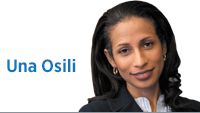 Last month, the Indiana Senate passed a bill that would expand a new class of payday loans.
The bill raises the limits on interest rates to 192 percent and eliminates the 72 percent cap currently in place. Supporters argue the loans are an essential lifeline for households with credit challenges, which enables them to cope with unexpected emergencies.
But several analysts, veterans groups, religious groups and not-for-profits have raised serious concerns about the expansion of this class of payday loans, a practice previously classified as predatory lending. Evidence from the Consumer Financial Protection Bureau shows that the expansion of payday loans hurts financially vulnerable borrowers. Studies indicate that many payday customers face escalating debt from multiple loans leading to greater financial insecurity and barriers to building assets for the future.
What is striking about the current debate on payday lending is that it puts in view a much larger issue: how families cope with changes in financial circumstances.
A majority of households are unprepared for both unexpected emergencies and long-term financial events, such as retirement.
We need a much stronger focus on building long-term financial security. Families of all backgrounds thrive when they can weather short-term emergencies and accumulate savings. Women face needs that are more significant because they tend to live longer and face a higher risk of outliving their savings.
The National Institute on Retirement Security estimates the nation's retirement savings gap is between $6.8 and $14 trillion. Two out of five Americans have not saved for retirement.
The government shutdown also exposed that even Americans with stable, good jobs lack a buffer to withstand unexpected financial storms.
Based on the Survey of Consumer Finances, the median retirement savings of those between 56 and 61 is $17,000. However, estimates suggest many families will need up to 20 times that amount to maintain their standard of living after they stop working.
Several factors contribute to growing rates of financial insecurity. Among them: the slow growth in wages, rising health costs and a substantial increase in housing and child care costs. Student debt also inhibits some from building a retirement base and from buffer for emergencies. Today, fewer private-sector employers offer workplace retirement plans. Only about 50 percent of workers have access to one.
What then is the solution to the growing rates of financial insecurity for working families in Indiana and beyond?
First, we need to expand financial education to boost security and improve the ability of Hoosiers to withstand shocks. Since the 1970s, a growing number of states have passed laws that mandate high schools teach financial literacy. More colleges are also offering financial literacy classes. Early exposure to financial education during high school increases savings rates when youth reach adulthood.
Financial literacy in the workplace can also help employees cope with emergencies and prepare for retirement. Additionally, financial education may be offered in tandem with employer benefits, such as 401(k) plans, tuition-matching programs and health care.
Second, we need to accelerate financial innovation to expand tools that help prepare more individuals and families to weather financial emergencies and plan for retirement. We also need a more flexible and intentional approach to expand financial security over the life span.
To build thriving, local economies, we will have far more success if we focus on improving financial security for Hoosier families rather than expanding payday lending.•
__________
Osili is professor of economics and associate dean for research and international programs at Indiana University Lilly Family School of Philanthropy. Send comments to ibjedit@ibj.com.
Click here for more Forefront columns.
Please enable JavaScript to view this content.