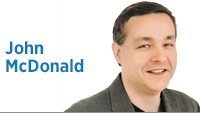 Earlier this year, the Indiana Senate passed Senate Bill 12, a hate crimes bill that did not include specific language protecting people based on their race, color, religion, sex, gender identity, disability, ancestry, national origin, sexual orientation and age. A Senate committee had stripped those protections out of the bill.
That means even if the bill passes, Indiana will remain one of only five states, along with Arkansas, Georgia, South Carolina and Wyoming, without a real hate-crimes law.
This bill, if passed without an enumerated list of victim characteristics, is a significant barrier to attracting out-of-state talent and severely limits our ability to encourage skilled Hoosier workers to remain here. To date, technology is one of Indiana's fastest-growing industries, but we don't have enough workers to fill the jobs we are creating. The ability to recruit and retain talent is one of the biggest challenges our industry faces now and will continue to face in the future.
It is our responsibility to do everything we can as business owners and residents of communities across Indiana, to facilitate a welcoming place to live, work and play. While capital and talent certainly fuel the tech industry, we can't forget that the tech industry is quickly becoming every industry.
This bill is a lot broader and affects a lot more than just Indianapolis and those working in the tech sector. Think of manufacturing companies outside our metro area that need to fill roles left vacant by retirees.
According to researched conducted by Deloitte and The Manufacturing Institute, over the next 10 years, manufacturers (often touted as one of the sectors we hope to continue to grow in Indiana) will likely need to add 4.6 million jobs. Today, more than 500,000 manufacturing jobs remain vacant in the United States. If we can't compete as a state because the younger workforce needed to fill these jobs doesn't want to move or live here, because of a seemingly regressive policy, then we significantly diminish the economic development opportunities for our state.
Think back when Amazon was considering a headquarters here, as many other companies will want to do in the future. The chance is very high that large-scale companies with the ability to positively impact our economy also have employees that identify with one or more of the cultural classifications removed from the current bill. So many of my industry colleagues have cited incredible challenges to filling open spots and recruiting new talent as a result of legislation in Indiana that has fostered an unwelcoming and unfriendly environment. These obstacles ultimately cost the organization time, money and growth opportunities that can never be replaced. It's becoming harder and harder to defend why innovative companies would decide to plant roots and grow in Indiana.
It has always been the intention of the tech sector to create a culture that fosters inclusivity and an inviting work environment for talented workers to advance innovation in our state for customers that make, move and grow things. And my goal is the same as many other leaders. Indiana already faces a skills shortage for workers, and it doesn't make sense to add another barrier.
Hate crimes are message crimes. If we want our state to be considered competitive in any industry, it's important that business leaders stand up and send the message that a watered-down bill is not the way to help move Indiana forward. As the Indiana Chamber says, "We are doing something bigger than business." The lack of an inclusive hate crimes law sends the wrong message for a state already in a death match for recruiting and retaining talent.•
__________
McDonald is the CEO of Fishers-based ClearObject and chairman of the Indiana Technology and Innovation Policy Committee. Send comments to ibjedit@ibj.com.
Click here for more Forefront columns.
Please enable JavaScript to view this content.