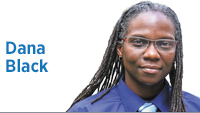 As we reach the final months of the 2019 session of the Indiana General Assembly, I'm questioning the strength of our executive branch and the governor's ability to shape the discussion with elected leaders in the Legislature, especially within his own party.
I attended a legislative conference earlier this year and Gov. Eric Holcomb made it clear what he wanted from the 2019 legislative session. He stated emphatically the need for comprehensive hate crimes legislation, he boasted about his desire to improve teacher pay, and he wanted to improve the Department of Child Services, just to name a few of his initiatives. The governor delivered a visually beautiful presentation detailing the 2019 Next Level Agenda.
The House did come through for DSC by passing House Bill 1006, which modifies guidelines for the agency about how children and families should be cared for. However, this bill does not address the second half of the issue—and that is the DCS employee. Setting the limits on the case load could create a bottle neck in the system if employee retention is not a part of the discussion. The implementation of the new guidelines will only be as effective as the case workers employed by DCS. And while the House budget included new money for DCS, Senate leaders have indicated they may cut that funding.
That seems to be a theme with this governor. He suggests what he wants from his supermajority General Assembly and they send him back something watered down and not meeting the stated goal. Another example is Senate Bill 12, the Senate's version of hate crimes legislation. After an attack on the Hamilton County Jewish community, Gov. Holcomb finally woke up and realized all the things people in the black, Hispanic, Muslim and LGBTQ+ communities have been saying for decades was true and hate crimes legislation was needed. But SB 12—as passed by the Senate—doesn't even list any protected victims' groups. Don't be fooled; this is by design because some of our elected officials think there is something inherently wrong with protecting our tax-paying transgender community.
And then there was Gov. Holcomb's commitment to raising teacher pay and public school funding. You can always tell what is most important by how people spend their money. Interesting information shared by Rep. Karlee Macer: Charter school funding will increase by 11.35 percent in 2020 and an additional 10.35 percent in 2021. Funding for virtual schools will increase by 9.17 percent in 2020 and an additional 8.93 percent in 2021. Voucher schools will receive an increase in funding of 10.33 percent in 2020 and an additional 5.66 percent in 2021. But what will public schools get? In 2020, a 1.59 percent increase and an additional 1.75 percent in 2021. About 92 percent of Indiana students attend a public school, yet they are only seeing a fraction of the additional funding non-public schools are receiving.
If these budget numbers hold true, then Gov. Holcomb's goal of increasing pay for public school teachers is not going to happen anytime soon and that speaks profoundly to his level of influence and effectiveness as a leader. He was ignored.
But wait! The House did find funding for arming teachers and staff in schools with guns and marksmanship training to the tune of $2,000 per person with the passing of HB 1253. But we can't give teachers raises? Gov. Holcomb has no control over his party and obviously his party is not interested in the future of our state when they can ignore one basic simple fact:
"Education is the most powerful weapon which you can use to change the world." – Nelson Mandela•
__________
Black is deputy chairwoman for engagement for the Indiana Democratic Party and a former candidate for the Indiana House. Send comments to ibjedit@ibj.com.
Click here for more Forefront columns.
Please enable JavaScript to view this content.