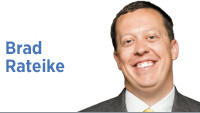 I'm not Catholic, but I've always liked the idea of giving things up for Lent. Maybe it's the Protestant guilt I feel for having abandoned my New Year's resolutions sometime in mid-January. Or maybe I just don't want to feel left out. Regardless of the reason, I try to make six declarations on Mardi Gras and then mark my progress at certain key dates throughout the next 40 days.
Conservatively, I hope to have at least two declarations still "alive" by the beginning of the men's NCAA basketball tournament. If my goals survive that weekend, I can generally gut it out through Masters weekend, and then there's the final push to Easter. Baby steps.
This year, in addition to six things I'm not going to do during Lent, I'm adding two activities I'm going to do. I'm going to invest a few hours each week helping soon-to-be college graduates find jobs, and I'm going to demonstrate gratitude to the many people who have helped me find jobs throughout my career. Yes, I've done some of this before, but I don't do it nearly enough. After all, many people invested in me, and you can never show enough gratitude for changing someone's life.
I turned 21 as a senior at Franklin College 17 years ago this month. I was 52 days from graduating and had no idea what I was going to do with my English degree. When professors or other adults would inquire about my future plans, I masked my uncertainty by making a joke about rehearsing, "Would you like fries with that?" just so I could laugh off the question, change the topic and avoid follow ups. I was nervous about looking like a failure right out of the gate (a bit overdramatic, but I was young). Had I realized how big of an impact my first job would ultimately have on my career, I might have had more anxiety, but I didn't know what I didn't know. Thankfully, a few adults took interest in helping me with gainful employment. They made valuable introductions, shared sage advice and gave me what I needed the most, encouragement.
We'll always remember the people who help us professionally, whether it's a boss giving a promotion, a colleague serving as a reference or a counterpart making a client referral. While I was fortunate, not every new graduate is the recipient of the same level of mentoring. I needed guidance then, and I know now that plenty of other graduates are going to need it, too.
My goal to demonstrate gratitude to those who have helped me through my career is self-explanatory. I try not to use too many absolutes in my daily life, but I will always believe that, in the history of humanity, no one has ever been upset by receiving a thank you note. They are, in fact, universally loved, and they make people feel good about what they've done to help others. Showing gratitude is easy—but you must make the effort.
A few weeks into Lent and I'm still on track with my larger list of "do nots," however it's the "dos" that I care more about this year. They're too important to ignore. I'll keep working at it, but if you see me over the next month, ask me about my progress. I could use the accountability.•
__________
Rateike is founder and owner of BAR Communications and served as director of cabinet communications for President Donald Trump. Send comments to ibjedit@ibj.com.
Click here for more Forefront columns.
Please enable JavaScript to view this content.