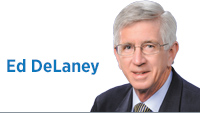 We all know that without discipline, the kids in our classrooms will fail. The same logic applies to state oversight of publicly-funded education.
Sadly, the General Assembly has failed to grasp this. We do not provide consistent oversight of the education laws we pass, let alone of the school systems that we fund. Instead, we treat the different educational organizations that we fund the way an inadequate teacher might treat his or her students. We lurch from favoritism to excessive nagging to simple neglect. We fail to respect functioning institutions, while ignoring experiments doomed to failure.
When it comes to the traditional public schools, which serve some 93 percent of our kids, we nag. We drown them in ever-changing acronyms, experiments and testing regimes. We move money around as if it did not matter. The latest nags are most revealing. On the one hand, we announce the demise of poverty and suggest moving money from poor districts to those that are better off. On the other, we propose a one-size-fits-all spending formula, requiring all 290 districts to spend the same percentage on the "classroom," no matter how poor the district is or what its capital accounts look like. This is nagging. At the same time we ignore the institutional support the traditional schools enjoy. We pretend that their school boards are uniformly wasteful of public money. They are not.
When it comes to charter schools, we practice a combination of neglect and deference. We turn responsibility over to well-intentioned founders with little supervision. They are not established institutions with a solid culture. Yet, they are given years to prove themselves. When they fail, they are given more years to improve. All of this is based on two false premises. First, we blithely assume that parents are both diligent and able to assess new charter schools. We also assume that " choice" is the answer to all criticisms. After all, the founders mean well and the parents are presumed to be fully informed. So let's not nag these schools. They are the legislative version of a teacher's pet.
When it comes to virtual charter schools we simply run away from responsibility, as do all too many parents.
When it comes to voucher schools, we rely on trust. These schools are like children who are trusted because they appear to act responsibly and require little supervision. While I reject the idea of funding religious schools, I recognize that the trust in them has a basis. After all these are established institutions that functioned successfully without us. We are likely to be satisfied with their work. They can continue to rely on bishops, pastors, committed teachers and parents. How they deal with reduced donations and students with weaker commitments to religious education is for them to resolve. How we justify taking dollars from public institutions to support religion is for us to explain.
The Legislature has failed at giving oversight to charter and virtual charter schools. We have also failed to do oversight on the laws we pass and the structures we create. The charter movement is about 20 years old, but we never hold hearings as to whether it is worth our money and effort. Two charter schools closed this week alone. Many others have failed on academic and financial grounds over the years. Although virtual charter schools are a newer creation, they appear to be a nearly complete disaster. We will tinker with them but won't end this experiment that costs nearly $80 million per year and produces nothing.
It is time for the governor and General Assembly to give adult supervision to publicly funded education.•
__________
DeLaney, an Indianapolis attorney, is a Democrat representing the 86th District in the Indiana House of Representatives. Send comments to ibjedit@ibj.com.
Click here for more Forefront columns.
Please enable JavaScript to view this content.