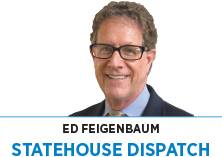 As Washington was awaiting the imminent delivery of the special counsel's Russia investigation, equally rampant rumors were sweeping the Mile Square about a compromise bias crimes bill nearing its debut.
Indeed, on Jan. 25, House Republicans introduced amendments to several criminal code bills. Each amendment contained language crafted by Rep. Greg Steuerwald, R-Avon, to allow a judge, in a sentencing determination, to consider whether "the person committed the offense with bias due to the victim's or the group's real or perceived characteristic, trait, belief, practice, association, or other attribute the court chooses to consider, including but not limited to an attribute described" in a section of the law that already references a victim's color, creed, disability, national origin, race, religion, or sexual orientation.
In a game of whack-a-mole of sorts, authors of other bills to which the amendment had been proposed passed until SB 198, a measure addressing drugs in penal facilities, was called, and Rep. Steuerwald explained how this constituted the elusive "sweet spot."
The substance is, of course, key.
As Lindsey Erdody explained in a story at IBJ.com, Democrats and some business groups believe Steuerwald's language falls short and fails to protect or provide redress to victims targeted for their age, sex, ancestry or gender identity. House Republicans, meanwhile, agree with Governor Eric Holcomb, a Republican, that, "This measure covers all forms of bias crimes and treats all people equally."
But set aside content momentarily and consider the precedent for the process under a supermajority.
Democrats have complained since Republicans attained supermajority status that—their marginal role in lawmaking aside—the process has been compromised by majority caucus meetings becoming the venue for what were once lively floor debates and even committee hearings on controversial issues, where differences were publicly aired even if Democrats had little chance to affect vote outcomes.
Now, as we saw in the Senate last year, substantive debate on critical matters has moved behind closed doors, where caucus decisions supplant committee hearings or floor debates, and members are able to avoid messy public discussions and recorded votes—in the bias crimes case, at least—against the business community writ large and what seems like public consensus.
The Senate Majority Caucus this year stripped the business-backed "list" of covered individuals and groups from the hate crimes bill (passed 9-1 in committee) with a floor amendment devoid of public input. Senators approved the amended measure on third reading—with some saying they only voted for it to keep it alive for a hoped-for reinsertion of "the list" in the House.
The Senate bill never received a House hearing, nor did Rep. Steuerwald's bill, the House answer to the Senate. Ironically, while the author said the intent of his language was to cover "every form of hate under the sun," and was based on conversations with all sides, it was shaped in the darkness of the caucus room.
As talks progressed toward "threading the needle," reports emerged the Bureau of Motor Vehicles was offering Hoosiers a non-binary "X" gender option on driver licenses and state identification cards. That riled some GOP House members, and, acknowledged House Speaker Brian Bosma, R-Indianapolis, disrupted bias crime negotiations.
So House Republicans opted to hash things out behind closed caucus doors like their Senate counterparts, and the March 25 second-reading amendment was offered with no opportunity for public input or debate—and just a House floor voice vote.
Democrats resigned themselves to offering a brief pro forma rebuttal of Steuerwald's statements about the bill's coverage. No other Republican rose to join the amendment's author in the 10 or so minutes spent on the issue (after several hours of close caucus discussion).
Policy aside, supermajority status has reduced public deliberation and input, and less benevolent leaders could lead Indiana deeper into the public being ignored going forward.•
__________
Feigenbaum publishes Indiana Legislative Insight for Hannah News Service. He can be reached at EDF@hannah-in.com.
Please enable JavaScript to view this content.