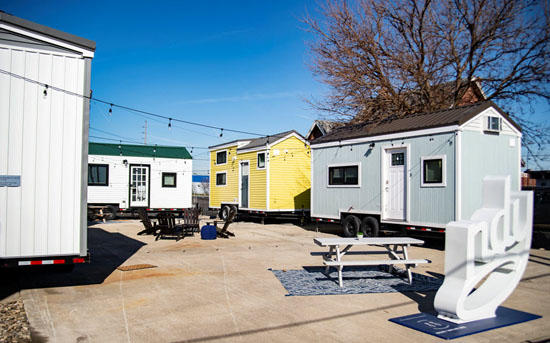 A locally-based specialty lodging company is giving travelers a new way to experience Indianapolis: bite-sized.
Try It Tiny on Saturday began offering short-term tiny-house rentals in a lot near the intersection of Senate Avenue and McCarty Street, south of Lucas Oil Stadium. The miniature abodes will be available through November.
The so-called Tiny House Hotel includes five uniquely-themed houses on trailers that each feature a kitchenette, bathroom and bed. Each is between 150 and 200 square feet.
Several of the beds are lofted, with a small living area tucked below. The houses are furnished with electricity, running water and heat and air conditioning. The houses also share a common outdoor courtyard that includes lighting, chairs, a picnic table, lawn games, a grill and a fire pit.
Maggie Daniels, founder of Try It Tiny, said the micro-hotels concept gives travelers a chance to see and "do something different," besides staying at a traditional Indianapolis hotel. She said the tiny houses have been a "big hit" so far, and several bookings have already been made for later in the year.
The houses sit on a lot rented from Gate Ten Events and Parking, which operates a parking lot and rental facility often used for Colts game-day tailgating and other events.
Try It Tiny has been involved in the "glamping" movement—glamorous camping—for a few years now, providing tiny-home lodging at the Indianapolis Motor Speedway and several NASCAR events throughout the country.
The company owns 20 tiny homes, including the five at the downtown Indianapolis project. Try It Tiny's primary focus is its rental service, which operates like Airbnb and connects tiny house enthusiasts with houses throughout the United States.
Daniels, a 2018 IBJ Forty Under 40 honoree, said rates for each tiny house start around $70 per night and come with a parking pass for one vehicle for each rental. She said some weekends with more events will have moderate surge pricing.
"We wanted to elevate the experience visitors can have in downtown Indianapolis," she said. "It is something unlike the typical hotel stock, and it really offers something unique for visitors looking to experience the city in a different way."
As part of a partnership on the project with Visit Indy, Try It Tiny has procured an "ndy" sculpture that can be used for selfies on site.
Chris Gahl, vice president of Visit Indy, said the tourism group is marketing the "uniqueness of staying in an Indy-branded tiny home" as part of its $1 million ad campaign to bring visitors to the city throughout the rest of the year, particularly in the spring and summer months.
Try It Tiny has received interest from several glamping enthusiasts hoping to book stays before the rentals stop in November, Daniels said.
"I want to make sure we leave a good impression on folks," she said. "I think this presents a unique opportunity for us to do that."
Please enable JavaScript to view this content.