With its pending acquisition of three Entercom Communications Corp. stations, Cumulus Media Inc. is set to become the biggest, most-listened-to radio company in the Indianapolis market.
That position has long been held by Indianapolis-based Emmis Communications Corp., which owns four local stations.
In February, according to Nielsen Media Research, more than 22 percent of radio listeners ages 6 and older in the Indianapolis market listened to Emmis' stations, which feature adult contemporary, country, news/talk and sports/talk formats.
Cumulus' three stations—rock, country and Top 40 formats—are already in a strong position. In February, Cumulus' station cluster was No. 2 in Indianapolis with 17 percent of the 6-and-over market, according to Nielsen. Adding in the three Entercom stations—which feature Top 40, adult contemporary and sports/news/talk formats—bolsters Cumulus' audience above 27 percent.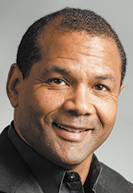 Bryant
After the acquisition, the "combined audience of the new group will help advertisers reach almost 1 million Indianapolis consumers," Dave Milner, Cumulus' executive vice president of operations, told IBJ via email in February.
The acquisition—still under review by the Federal Communications Commission—would put Cumulus in a strong position to offer advertisers in a single sales call almost any demographic they desired.
"Cumulus has really plugged its audience gaps in this market with this acquisition," said Bruce Bryant, president of locally based Promotus Advertising. "Cumulus now has the ammunition it needs to point their guns straight at Emmis."
Some industry observers think Cumulus would become so big, in fact, that it would run afoul of complex FCC concentration-of-ownership rules—potentially forcing it to unload one of its FM stations. But others question that.
Atlanta-based Cumulus positioned itself to bulk up its Indianapolis footprint by engineering a multi-station swap with Pennsylvania-based Entercom. Cumulus agreed to trade a New York station and two in Springfield, Massachusetts, to Entercom for three Indianapolis stations—WZPL-FM 99.5, WNTR-FM 107.9 and WXNT-AM 1430.
Cumulus has said it plans to move the three Entercom stations over time to Cumulus Indianapolis' studios at 6810 Shadeland Ave. The company said it hasn't made a decision on potential staffing changes.
Cumulus began operating the stations March 1, and Bryant expects Cumulus' advertising reps to soon make direct appeals to Emmis advertisers—if they haven't already.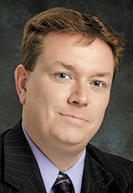 Uecker
"Every station and ad manager has a report that tells them which companies advertise with which station and how much they spend," Bryant said. "I think Cumulus will target Emmis advertisers with the call to make Cumulus their one-stop shop in this market."
Cumulus also might rejigger station formats, particularly at its Top 40 and adult contemporary stations, to advance that strategy, said Scott Uecker, a University of Indianapolis communications instructor and general manager of WICR-FM 88.7.
"I think they will tweak some formats to better create a portfolio that is even more attractive to buy ads across all their stations," he said.
In addition to making the Cumulus stations more complementary in the demographics they draw, Uecker said, format changes can force competitors to change theirs.
"It's called counterprogramming, and it's a way that radio station owners with multiple stations can program one station to protect the audience of another of its stations," Uecker said.

Cumulus, which expects to complete the station acquisitions in the second quarter, hasn't laid out its strategy.
In August, the company tapped Chuck Fredrick, a former Cincinnati market manager for iHeartMedia, as its Indianapolis market manager. He could not be reached for this story.
Industry observers say other Indianapolis radio clusters aren't going to stand idly by and let Cumulus take market share.
"You have to ask yourself, do other clusters in the market try to get bigger as a result of this?" Uecker said. "Does Emmis try to get bigger? This is something that everyone in the market is going to have to react to."
Emmis officials declined an interview request, but Vice President Bob Richards said in an email that the Cumulus acquisitions don't create a doom-and-gloom scenario for his company's stations.
"We have great respect for the team at Cumulus and think their increased scale should lift radio in the eyes of listeners and advertisers in Indianapolis which is good news for all of us in the radio business," Richards said in an email.
"Our four Emmis stations in Indianapolis and our statewide network hold formidable market positions relative to Cumulus and all other competitors, and we look forward to regaining the top spot in the coming years."
Emmis CEO Jeff Smulyan told IBJ last year that he continually evaluates opportunities in this market. He did not dismiss adding stations here. "You never say never," he said.
Emmis owns sports/talk station WFNI-AM 1070, news/talk station WIBC-FM 93.1, adult contemporary station WYXB-FM 105.7 and country station WLHK-FM 97.1, along with Network Indiana, a radio-news network.
Observers say the FCC could throw a wrench in Cumulus' plans if it deems the deal would give the company more stations in one market than rules allow.
According to FCC regulations, in markets with 45 or more commercial and non-commercial stations, an operator can own up to eight, with no more than five FM or five AM stations.
In markets with fewer than 45 stations, an operator can own no more than seven, and no more than four FM or four AM stations.
Observers say that whether the Indianapolis market hits the 45-station threshold depends on how the FCC interprets a range of issues.
FCC officials declined to specify when asked by IBJ, instead referring to commission bylaws.
"I will say, there's some ambiguity," Uecker said. "There's a question about how the Indianapolis market is defined or what [the FCC considers] a station."
The FCC uses data from Nielsen and research firm BIA/Kelsey to determine station counts in a given market, said David Oxenford, a partner at the law firm Wilkinson Barker Knauer LLP in Washington, D.C., who has represented broadcasters for more than 30 years.
In a recent filing, BIA/Kelsey counts 51 stations in this market, suggesting Cumulus might not be forced into a station divestiture.
Even if Cumulus doesn't have to divest, Uecker said, it might opt to unload sports talk station WXNT-AM 1410, one of the few AM stations in this market without an FM translator. Broadcasters use translators to extend radio signals to reach more listeners.
It's also possible that Cumulus—which chopped its debt by more than $1 billion during a bankruptcy reorganization that wrapped up last June—would entertain station sales to further reduce leverage.
If Cumulus put one of its Indianapolis FM stations on the market, industry observers say, there would be plenty of interest. Some think Emmis would like to put WFNI-AM 1070, its sports talk station, on a stronger FM signal. It currently airs on an FM translator.•
Please enable JavaScript to view this content.