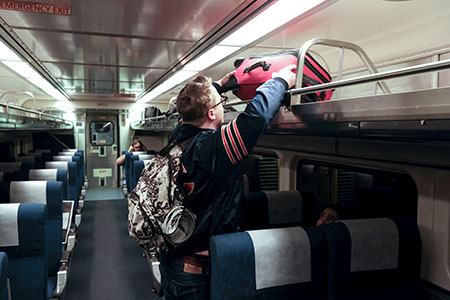 Amtrak on Monday issued an official notice that it plans to suspend operation of the Hoosier State line, which provides Indianapolis-to-Chicago service, starting July 1.
Indiana's contract to provide funding for the line ends June 30, and new public financing hasn't been proposed at the Statehouse. The passenger line was not included in budget proposals from Gov. Eric Holcomb or the Indiana House GOP. The Senate releases its budget plan Thursday.
The Hoosier State runs to and from Chicago four days a week. It receives $3 million annually in subsidies from the state under the current two-year budget, plus a combined $500,000 annually from five local communities along the route: Crawfordsville, Lafayette, West Lafayette, Tippecanoe County and Rensselaer.
Tickets for service after June 30 are no longer being sold, Amtrak said.
Amtrak spokesman Marc Magliari said about 500 people who have already purchased tickets for rides scheduled after June 30 will be compensated with tickets on Amtrak's Cardinal line, which runs from Indianapolis to Chicago on Mondays, Thursdays and Saturdays. The Hoosier State line runs Sundays, Tuesdays, Wednesdays and Fridays.
"This service only exists because of the state contract," Magliari said. "We can't in good conscience continue to sell tickets without a contract in place."
Magliari said the line could only be saved if the state approves a new funding plan for the next two-year budget.
The Indiana Passenger Rail Alliance, which supports the Hoosier State route, issued a statement Monday denouncing the lack of funding.
"The end of daily rail service to Chicago now appears imminent," the group said in a written statement.
"We are extremely disappointed in Gov. Holcomb's decision to defund this Amtrak service, IPRA President Steve Coxhead said.
The Hoosier State is one of Amtrak's 29 state-supported routes around the country. Indiana began subsidizing the Hoosier State in 2013, after Congress ended federal funding for Amtrak passenger routes shorter than 750 miles.
The line's ridership is the smallest of Amtrak's state-supported routes, and its ridership has declined over the past five years.
During Amtrak's 2014 fiscal year, which began in October 2013, the Hoosier State carried 33,930 passengers. That number dropped to 27,876 in the 2018 fiscal year, which ended Sept. 30. Ridership was up 4.3 percent during the first three months of the current fiscal year (July-September).
For the 2018 fiscal year, gross ticket revenue totaled $902,000.
Low ridership numbers mean government support subsidizes about 75 percent of the cost of each Hoosier State ticket sold, Indiana Department of Transportation spokesman Scott Manning told IBJ in February.
Put another way: For every ticket sold, Amtrak receives $32.85 from passengers (including train fare and on-train food and beverage sales) and $100.89 in state and local funding.
Ridership has been holding fairly steady as of late, according to Magliari, with 11,059 riders from October to February, compared with 11,085 in the same period a year ago.
Hoosier State supporters say losing the line would have ramifications. The reduced frequency of passenger service between Indianapolis and Chicago would also hurt operations at Amtrak's Beech Grove heavy maintenance facility, which employs about 500 people.
The facility is one of three such operations in Amtrak's system, and it does work for Amtrak and other rail companies. If service drops to three days a week, Magliari said, the Beech Grove facility would lose flexibility to ship equipment back and forth on the line.
Magliari said Amtrak also supports about $80 million in payroll and procurement in Indiana that could be reduced if the line disappears.
Please enable JavaScript to view this content.