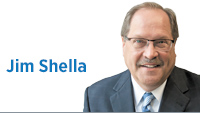 Three daily newspapers came to the house when I was in high school. We lived in a small Minnesota town not far from the South Dakota border, so my family subscribed to both the morning and afternoon Minneapolis papers and to the Sioux Falls paper. My parents also subscribed to two weekly newspapers (the hometown paper and the one printed in the county seat.) I read them all.
And when I went to the school library, I would often read yet another daily.
I still read the paper, although now I usually do so on a tablet or computer, or on my phone. I enjoy the e-edition (which is a digitized version of a print paper), so I can follow what editors and reporters have decided are the most important stories and see how they have arranged them accordingly. I am in a distinct minority.
A recent study by Pew Research (it interviewed 34,897 people nationwide, so it's a serious, scientific study) found only 13% of respondents prefer their news via print. It's better in Indianapolis, but not by much, where 16% chose the newspaper.
The study also concluded that the public finds local news to be a key factor in their lives, if for no other reason than to get the weather forecast. Sixty-six percent in Indianapolis said weather news is important for daily life.
TV is the preferred delivery option (37% in Indianapolis vs. 41% nationally). Websites are the second choice.
The study did find that 70% in Indianapolis believe the news is reported accurately. And consider this: 86% believe the media does "very well" or "fairly well" at keeping them informed. So much for fake news.
But let's get back to newspapers. They are fading not just because there are newer forms of media delivery. Newspapers have failed to find a way to get enough people to pay for their product. The Pew study found 87% of people in Indianapolis have not paid for local news.
I'm willing to pay. I subscribe to the Indy Star, and The New York Times, and to a website or two that now compete with them. (As a Forefront columnist, my IBJ subscription is complimentary.) But I get frustrated when I click on a Twitter story put out by the Star and find I must provide an ID and password in order to read it. These are not at my fingertips. Am I willing, I ask myself, to click out of this story, and the Twitter feed, to go to the Star website and read the story?
Usually, the answer is no.
Plus, my Star subscription is good only for that paper and not for others owned by Gannett. The only remaining Minneapolis paper, the Sioux Falls paper, and papers in places where I went to college and previously worked are all Gannett papers, and I occasionally want to read stories they put out without buying an individual subscription. Can't.
Why can't Gannett offer a universal subscription?
On Oct. 1, 1999, The Indianapolis News published its last edition. I purchased a framed copy of that final front page at an auction held when the Indianapolis Press Club went out of business. (The Indianapolis Press Club Foundation still exists, dedicated to raising money to support college journalists.) The News was in operation for 130 years, and that last issue was a historic development signaling the death of afternoon newspapers.
It's easy to imagine that a similar milestone is in the offing for morning papers unless they figure out how to seamlessly provide what paying subscribers want.•
__________
Shella hosted WFYI's "Indiana Week in Review" for 25 years and covered Indiana politics for WISH-TV for more than three decades. Send comments to ibjedit@ibj.com.
Click here for more Forefront columns.
Please enable JavaScript to view this content.