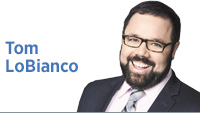 As special counsel Robert Mueller completed his investigation of Russia's interference in the 2016 election and the Trump campaign, Washington was flooded with the inevitable hot takes.
Surely the hottest to singe most journalists, and arguably the most overheated of the endless takes, came from Matt Taibbi of Rolling Stone, who compared the press coverage writ-large to "this generation's WMD." He was referring, of course, to widespread media reports that Saddam Hussein had access to weapons of mass destruction, which were never unearthed. These claims fueled the public argument to launch the Iraq War in 2003.
Taibbi believes the journalism community hurt its public image through extensive reporting on Trump and Russia, and the "WMD" of his corollary is the "Steele Dossier," with a wide range of raw intelligence collected on Trump and the Kremlin—some of which bore out, some of which hasn't.
Nonetheless, attempting to crawl out of the Trump-Russia thicket, instead of descending further, I believe Taibbi seems to have misunderstood the journalism in this case and the extensive, accurate, award-winning coverage that makes up the sprawl of Trump-Russia coverage.
It's not a journalist's job to file indictments, argue cases in court, present defenses or levy sentences—that's the purview of the justice system. In this case, the justice system (special counsel, attorney general) decided not to indict a sitting president for obstruction of justice. That's a big deal.
Yet it does nothing to undercut the actual, accurate reporting—some of it Pulitzer-winning—that ran side-by-side with the Mueller investigation as it unfolded:
◗ the Trump campaign's top advisers' meeting with a likely Kremlin operative in June 2016
◗ a foreign policy adviser's meeting with an alleged Russian spy
◗ the president's national security adviser's lying about discussions with the U.S.-Russian ambassador.
And none of that erases the many offshoots of the Mueller probe, such as Trump's hush payments to a porn star, and the president's negotiations to build a hotel in Moscow.
All of these myriad takes, at this writing, are built from Attorney General William Barr's four-page summary taken from the original 300-page Mueller investigative report. As I write this column, The New York Times is breaking another exclusive story regarding the special investigation: this time pointing out that investigators from the Mueller probe disputed Barr's version of events, noting the president's involvement was greater than that reported.
This reminded me of another time when the "official" version of events didn't match the underlying investigation—the Tony Bennett scandal.
Bennett was Indiana superintendent of public instruction from 2008 to 2012, and his staff performed political work on state time with state equipment. Indiana's State Ethics Commission fined Bennett $5,000, in a settlement negotiated between his white-collar defense attorney, Larry Mackey, and the state Inspector General's Office.
The actual Bennett investigative 95-page report discovered more than 100 instances of potential criminal violations and recommended that Bennett face criminal charges. Neither Marion County Prosecutor Terry Curry nor then-federal prosecutor Joe Hogsett pursued those charges, but the condemnatory report was still newsworthy and accurate. That is undeniable.
Few yet knows what is in the actual Mueller report, but it's already guaranteed not to be another WMD. The compelling, accurate reporting on pertinent issues to date has shown as much.•
__________
LoBianco was a political reporter for The Indianapolis Star, CNN and The Associated Press and is currently writing a book on Mike Pence.Send comments to ibjedit@ibj.com.
Click here for more Forefront columns.
Please enable JavaScript to view this content.