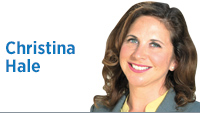 In her lifetime, the average woman will use more than 11,000 tampons or pads. And they aren't cheap.
Neither are diapers. Please just ask friends and families with small kids. The day their little ones stop wearing diapers is not only liberating—it feels like bringing home a raise.
A few years ago, the Indiana General Assembly decided to relieve people who buy and sell gold bullion and other metal coins from paying sales tax. Then a member myself, I tried to take the bill in a different direction.
Gold bars and coin collections are really, really nice things to have. But they weren't—and aren't—exactly on the must-purchase list for working families around the state. I am not sure who is buying the gold bars and coins. But I assume they are mostly well-to-do investors, not mad scientists and Bond villains preparing to bury them in their basements.
Yet how many moms and dads struggle just to contribute to their young kids' 529 college savings plans? Too many. In fact, today, some families struggle to afford a Saturday matinee or to pay their kids a modest allowance for household chores.
With these working people in mind, I asked my colleagues to amend the bill to include the same tax break for diapers, tampons and maxi pads that they were extending for those buying bullion for investments.
While members from both parties voted for my amendment, it failed to pass. And to this day, girls, women and families still pay punitive taxes every day. It is not right, and it is not fair. No one loves to buy tampons or diapers. They can't be used to decorate an ancient Egyptian sarcophagus or the wrist of one's beloved. They are simply necessary to personal hygiene and the vivid realities of our biology.
If Indiana can afford to exempt gold bars, coins, race cars and private planes from sales tax, we can find a way to make up the modest impact this additional tax break for all Hoosiers would have on the state's coffers. Particularly given the healthy budget surplus.
Gov. Holcomb often and correctly points out that more people are working in Indiana than ever before, but that is not entirely a good thing considering other economic trends and data.
Income is not stable or easy to earn from one lifetime source or employer.
Individuals are working more jobs than before. In fact, as Ball State University researchers have noted, Indiana worker salaries ranked 40th nationwide in 2010, with the average resident receiving $34,042 in income from all sources. That's a decline from 1980 when Indiana ranked 30th and from 1950 when our state ranked 21st.
As women have steadily entered the workforce, families face more expenses. Finding and paying for quality and affordable child care, for example, is important and challenging, especially when both parents work outside the home.
Campaigning Republicans and Democrats often talk about kitchen-table issues and the need to leave more money in folks' pocketbooks.
Elected, empowered Hoosier leaders have only a few days left to demonstrate that they are serious about those campaign promises. They need to bring true budget relief to Indiana families by eliminating ridiculous, punitive taxes on essential personal hygiene items. Over their lifetimes, Hoosier families would save hundreds of dollars.•
__________
Hale is a former member of the Indiana House and ran for lieutenant governor in 2016 on the Democratic ticket. Send comments to ibjedit@ibj.com.
Click here for more Forefront columns.
Please enable JavaScript to view this content.