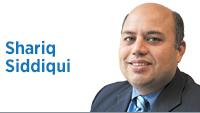 I don't support President Donald Trump. I didn't vote for President Trump. I don't like President Trump. I think the Trump presidency is bad for the United States, bad for the world, and very bad for the GOP.
But I think it is good for our country that the Mueller report summary suggests there was no collusion between Russia and Trump or his campaign. As a nation (whether we like it or not), we elected Trump. While it might be politically expedient to have him disqualified from the presidency because of such collusion, it would be bad for our nation to have a president under the influence of foreign adversarial power.
If you don't like Trump, work hard to make sure he isn't re-elected. There shouldn't be any shortcuts. Our nation (even those of us who didn't vote for him) elected him, and as a nation, we must reject him in the next election.
Indictment is the easy way out. It would be simpler for Americans to blame Trump's election on the sinister actions of a foreign adversarial nation than to admit his presidency represents the nation's failure to address racism, misogyny and nationalism.
Let's acknowledge the fact that Trump is not an anomaly but indicative of a broader American problem with deep prejudice.
Indiana's inability to pass a meaningful (the legislation just signed into law by Gov. Eric Holcomb is not meaningful) hate crimes law is not about the president. This failure is about Hoosiers, just as it is about the citizens of the four other states who have failed to recognize the need for greater protection for groups of vulnerable citizens.
We must face the fact that we have a lot of work to do to fight against the deep reservoir of hateful prejudice. We need to get busy to enact change with or without politicians' support.
And all people still need to focus on how much we can learn from the Mueller analysis.
This report didn't boil down to some lottery number where one person wins and others lose. Those rejoicing over the Mueller report as an exoneration of Trump, as well as those who are mourning that the president hasn't been indicted, must remember the somber news of what the Mueller investigation did suggest.
It showed clearly that Russia worked hard to highlight and amplify a reservoir of hate.
The Mueller report showed some of Trump's closest advisers were open to receiving dirt against Democratic presidential candidate Hillary Clinton from foreign powers in order for Trump to win the election. The special counsel's investigation didn't exonerate the president from obstruction of justice, either.
Ethical Republicans and others who have supported the president must not embrace Attorney General William Barr's summary as proof that Trump is in the clear. The president's not being indicted is a very low bar.
The Mueller report must be released to the American public after intelligence agency and law enforcement officials redact portions that might harm national security or individuals' privacy rights. The release of this report will allow citizens to better understand our nation's mistakes and learn how to prevent them from happening again.
Then, we must put the Mueller investigation behind us and address some serious national problems. Chief among these must be bigotry and prejudice that are manifesting themselves in the rise of white supremacist movements.
I didn't vote for Trump, and I still don't like or support him. But I know his election says more about the failings we have as a nation than about him.•
__________
Siddiqui is an attorney, has a doctorate from the Lilly Family School of Philanthropy at IU and leads the Association for Research on Nonprofit Organizations and Voluntary Action. Send comments to ibjedit@ibj.com.
Click here for more Forefront columns.
Please enable JavaScript to view this content.