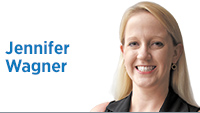 We Hoosiers aren't known for rocking the boat.
Broad brush: We're humble, kind folks who mostly keep to ourselves, our families and our communities.
Problem: That makes it really hard to move the needle at the Statehouse when it comes to big, bold ideas. Or, in the case of bias crimes legislation, ideas that practically every other state has adopted in a meaningful way.
There are doubtless plenty of other, smarter people who will weigh in on the bias crimes issue specifically—and why the law we now have on the books falls far short of where we need to be. (Short version: If someone murders me and carves "I hate women" on my forehead, that person wouldn't face any additional penalties for targeting based on sex or gender because lawmakers omitted those categories from protection under the Indiana law.)
I want to focus on the broader perspective of why change is so hard here—and on the two Republican governors who've most upset the apple cart in recent political history.
First, there was Mitch Daniels, who came into office with a road map for change that he actually followed. From privatizing the Indiana Toll Road to overhauling the Bureau of Motor Vehicles, nothing was off limits.
Jaws dropped. Lawmakers were shocked that he didn't care what they thought. I still remember the "Too Much, Too Fast?" front-page headline from 2006, a year that turned out to be an exceptionally good one for Democrats statewide and nationally.
Hoosiers voted for change, but did they actually want that much change?
In the years that followed, some groups and residents warmed up to those changes. For example, in northern Indiana in late 2017, Kyle Hannon of the Greater Elkhart Chamber of Commerce lauded the toll road privatization.
"It's time to appreciate what's going on with the Indiana Toll Road," Hannon wrote in the South Bend Tribune. "A major $300 million reconstruction project is mostly finished, using a local company. It will be completed ahead of schedule, below budget and at no cost to taxpayers."
Compare and contrast Daniels' bold leadership with Mike Pence, who elbowed Lt. Gov. Becky Skillman out of the way to run in 2012. His platform was platitudes upon platitudes. I can't remember a policy initiative.
But that didn't matter. He was a Republican in a Republican state, and he won. Only then—during the constitutional-amendment fight over same-sex marriage and the subsequent debacle that was the Religious Freedom Restoration Act—did his true colors shine through.
It turns out Hoosiers didn't much like change they hadn't known was coming, either. And we really didn't like our reputation as open and welcoming being dragged through the mud nationally.
So, what can we learn from these polar opposites when it comes to big policy debates on topics like bias crimes? We don't change unless we're forced to—either via strong leadership from the top or via public shaming.
Yes, those are generalizations, and plenty of things happen at the Statehouse without those motivations, but those seem to be the two driving factors.
I want to close by saying these policy ups and downs are part of Indiana's fabric, not inherently bad, but sometimes painful, especially for those Hoosiers outside the mainstream. And our hesitancy hampers progress.
We have our reputation for Hoosier hospitality because we are warm, welcoming people who stay in our lanes and don't rock the boat. But sometimes—as was the case this year with bias crimes—that means we're still at the back of the pack, and that's no place to lead from.•
__________
Wagner is a lifelong Indianapolis resident and vice president of communications at EdChoice. Send comments to [email protected]
Click here for more Forefront columns.
Please enable JavaScript to view this content.