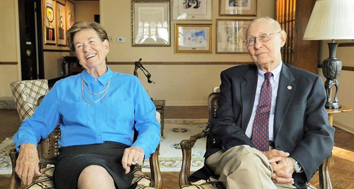 Indiana University announced Wednesday that it will rename its design school after receiving a record $20 million donation from prolific Indianapolis philanthropists Sidney and Lois Eskenazi.
The school will be called the Sidney and Lois Eskenazi School of Art, Architecture + Design.
IU said the donation—the largest in the school's history—will help support scholarships, faculty development, academic programs and research initiatives for the school, which offers degree programs in 14 areas of study.
"This outstanding gift will have a transformative impact on the new Eskenazi School of Art, Architecture + Design, dramatically enhancing its mission to provide a state-of-the-art education in art, architecture and innovative design for students seeking careers in these areas and in businesses and industries where design is fundamental to their success," IU President Michael A. McRobbie said in written comments.
Part of the donation will establish a new Lois Eskenazi Scholarship for incoming first-year students who are interested in painting. It will also support a new "Fund for Excellence" that will be used for scholarships, fellowships, visiting artists and scholars, research funding, equipment, facilities, and other special projects.
The school won't be the first IU institution named after the Eskenazis. In 2016, the art museum was renamed the Sidney and Lois Eskenazi Museum of Art after the couple donated $15 million.
The gift helped pay for the $35 million renovation of the museum's iconic I.M. Pei-designed building, which will reopen this year. The Eskenazis also gave the Eskenazi Museum their collection of nearly 100 works of art.
Sidney and Lois Eskenazi are IU graduates who met on campus in the 1950s. The couple has helped fund several notable projects in central Indiana through major gifts, including a $40 million donation in 2011 that helped pay for the Sidney & Lois Eskenazi Hospital and Eskenazi Health medical campus in Indianapolis.
Sidney Eskenazi, an Indianapolis native who earned undergraduate and law degrees from IU, founded real estate company Sandor Development in Indianapolis in 1963 and built it into one of the largest privately held shopping center development firms in the nation.
Lois Eskenazi earned a bachelor's degree from IU and became a medical and lab technician.
The couple are longtime donors to IU, beginning in 1970 with the formation of a scholarship fund. Their financial support for Herron School of Art and Design on the IUPUI campus in Indianapolis led to the creation of Eskenazi Hall.
"Indiana University is extremely grateful to Sidney and Lois Eskenazi for furthering our rich and longstanding traditions in the arts and humanities, for helping us contribute to a vibrant culture of building and making across the Hoosier state, and for their remarkable continued generosity to the university," McRobbie said.
The IU School of Art, Architecture + Design was established in 2016 through a merger of the Department of Studio Art and the Department of Apparel Merchandising and Interior Design. It is part of the College of Arts and Sciences.
Please enable JavaScript to view this content.